WWI Sergeant William Shemin: Receiving A Long Overdue Medal Of Honor
Published on
July 13, 2021 at 4:11:00 AM PDT July 13, 2021 at 4:11:00 AM PDTth, July 13, 2021 at 4:11:00 AM PDT
When soldiers become heroes by fighting bravely for our country, their service should be honored, no matter how long it takes. For Sergeant William Shemin, it took nearly a century before he was finally recognized for his service with the Medal of Honor, our nation's highest military award. This is the story of Sergeant Shemin, his love for family and flag, and his family's battle to cement his legacy.
Born in New Jersey, William Shemin (his friends called him Bill) played semi-pro baseball as a teenager. In 1914, he graduated from New York State Ranger School with a degree in forest and natural resources management. But he had a much higher calling to fulfill, and in 1917, Shemin enlisted in the Army. One year later, while serving as a rifleman in France, Shemin would be confronted with the ultimate test of his bravery and commitment.
Sergeant Shemin was a member of the 47th Infantry Regiment, known as "The Raiders" (Company G, 2nd Battalion). The 47th were assigned to the 4th Division in 1917, and remained with the division in France throughout the duration of World War I. Sergeant Shemin's infantry regiment earned credit for participation in five campaigns.
On August 7, 1918, Sergeant Shemin and his regiment were serving as members of the American Expeditionary Forces during combat operations at Vesle River, near Bazoches, France. Shemin's company was in position on the shores of the river, with German forces on the opposite side. To keep their position secure, the Germans were loosing a near-constant stream of both bullets and gas weapons, creating a large kill zone. That made crossing the river by footbridge impossible. With little choice, Shemin and his platoon swam across the river under cover of a steep rock face.
Now came the hard part. A three-man team began preparing at the foot of the rock hill to take out a German machine gun placement. Soon, the mission launched but was met with almost instant failure. Two of the men were killed and a third was seriously wounded. The wounded man, a friend of Shemin's named Jim Pritchard, lay dying in the middle of the German kill zone, 150 yards from the American lines.
"With the Most Utter Disregard for His Own Safety"
Sergeant Shemin refused to let his friend die. Under heavy fire from all sides, in bright daylight, Shemin reached the bleeding Pritchard and successfully removed him back to American lines for medical help. This was the first of three times Shemin would accomplish this superhuman feat over the course of the battle. As hand-to-hand combat continued for two days, Shemin would save two other injured men from open fields of fire.
Ultimately, American forces were forced to withdraw. But Shemin had distinguished himself in the eyes of his platoon during the battle. According to Captain Rupert Purdon, one of Shemin's superiors, Shemin ran from cover to rescue others "with the most utter disregard for his own safety." His fellow soldiers were also in awe and wrote, "Sergeant Shemin was cool, calm, intelligent, and utterly fearless. He was a big factor in maintaining splendid morale and tactical efficiency of his platoon."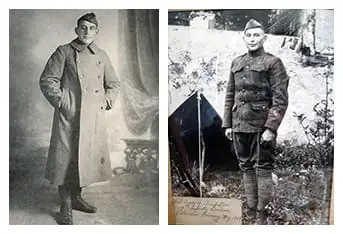 Shemin received the Purple Heart for the injuries he sustained during combat, including a machine gun bullet lodged behind his left ear that left him partially deaf. He also received the Distinguished Service Cross for valor on the battlefield. It was this Distinguished Service Cross that would be upgraded to a Medal of Honor nearly a hundred years later.
After being honorably discharged, Sergeant Shemin started a greenhouse and launched a landscaping business in New York. In addition to his military and professional success, Shemin raised three children who loved him and appreciated him for all he stood for. He died in 1973.
Shemin's Medal of Honor: Glory Delayed
The photos you see of a young William Shemin are old and grainy, digital replicas of frayed hard copies. The military scenes you see are also timeless — soldiers camping in gear, boys blowing off steam with sports. But there was one thing about Sergeant Shemin that was invisible in the photos that somehow made him different from the soldiers he led and fought alongside.
According to the Army Times, it's believed that Shemin was denied the Medal of Honor for his heroism in France simply because he was Jewish. Elsie Shemin-Roth, one of Sergeant Shemin's three children, expanded on the reasons behind her father's denial in an interview with the World War I Museum. "His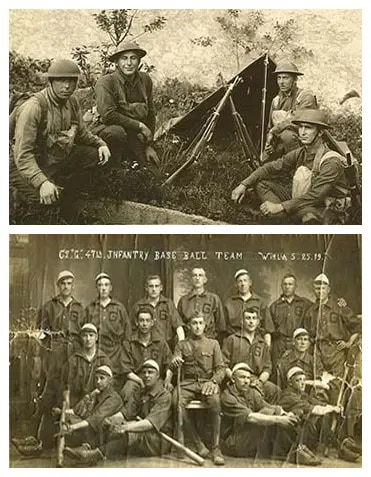 men wanted to recommend him for the Medal of Honor," said Elsie. "They were told that no Jew would receive our nation's highest military award." That's when his men recommended him for the Distinguished Service Cross instead.
For Sergeant Shemin, the honors never mattered, only his men. "War is not about medals," said Sergeant Shemin. "I love my country. I love my men. That's all that counts." But Elsie and her family would not rest. They worked for years to collect evidence and documents as part of a campaign to have her father enshrined in the Pentagon's Hall of Heroes.
Unfortunately, even Shemin's clear valor and the nation's social progress were not enough on their own to make Elsie's campaign fruitful. Under the original Medal of Honor rules, deeds under consideration for recognition must have taken place within the previous five years. It was going to take an act of Congress to get the sergeant his medal after all this time.
Around the year 2000, Elsie first learned of a law in effect for reviewing cases of Jewish soldiers who may have been denied medals for their service in World War II. Upon learning there was no such review mechanism for World War I veterans of Jewish descent, Elsie helped lobby for a new law to accomplish just that. Passage of that law in 2012 as part of the National Defense Authorization Act is what opened the door to Sergeant Shemin finally getting the Medal of Honor he had earned.
Rectifying Widespread Discrimination
Sadly, Sergeant Shemin was not the only hero denied honors simply because of the family he was born into. The review of records for World War I soldiers who may have been discriminated against also brought justice to the family of Sergeant Henry Johnson. Sergeant Johnson, a member of an all-black National Guard unit ordered into battle, was posthumously awarded the Medal of Honor for his combat actions during World War I.
In 1918, Johnson and a fellow soldier were attacked by at least 12 German soldiers. According to the White House, Johnson overcame serious wounds to fight back until the Germans retreated. Because of Johnson's actions, his fellow soldier was spared becoming a prisoner of war.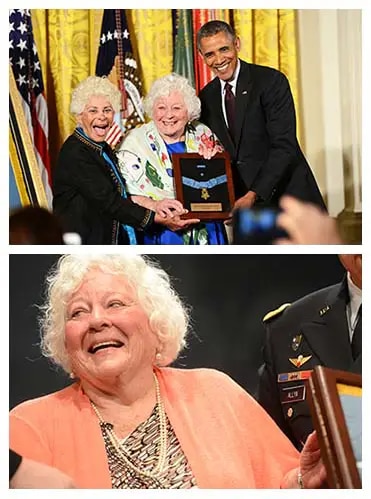 After being denied the same honor for essentially the same reason during their lives, Shemin and Johnson were finally honored posthumously with the Medal of Honor by President Barack Obama in a joint 2015 ceremony. For Elsie, the similar stories and shared ceremony make it simple. "Sergeant Henry Johnson is now part of our narrative."
The Medal Ceremony
The ceremony for Shemin and Johnson was an emotional one. The top right photo of the Medal of Honor ceremony shows Elsie's radiant smile as President Obama hands her the medal as she stands with her sister Ina Bass. The bottom right photo shows Elsie with tears of joy as Deputy Defense Secretary Bob Work handed her the Medal of Honor flag.
Completing the celebration, Command Sergeant Major Louis Wilson was present to receive the posthumous medal on behalf of Sergeant Johnson. President Obama captured the significance of the event for the families and the country in his remarks. "Today, America honors two of her sons who served in World War I nearly a century ago," President Obama said. "Some of you have worked for years to honor these heroes, to give them the honor they should have received a long time ago. We are grateful that you never gave up."
Memorializing Sergeant Shemin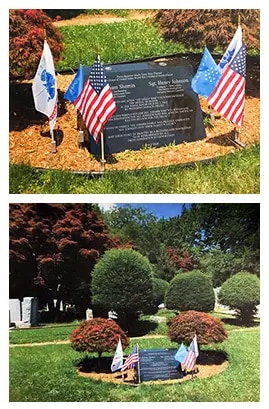 Sergeant Shemin is one of only 97 Army soldiers to receive the Medal of Honor for combat actions in World War I. Shemin's Official Citation lauds his bravery and willingness to sacrifice himself for others. "Sergeant Shemin's extraordinary heroism and selflessness, above and beyond the call of duty, are in keeping with the highest traditions of the military service and reflect great credit upon himself, his unit, and the United States Army."
Though the Medal of Honor was a recognition that should have come in his lifetime, Sergeant Shemin at least deserved a resting place that marks his great accomplishment for all visitors. When Elsie came to us for assistance in choosing flags for Sergeant Shemin's burial site, we were happy to help.
The Shemin family had erected a monument at Baron Hirsch Cemetery in Staten Island, and they needed high-quality flags to adorn it. Elsie sent us a picture of the memorial, and that's when we saw just how much the Sergeant Johnson story had intertwined with Sergeant Shemin's narrative for Elsie's family. Honoring just their father with the memorial didn't seem right, so the monument is also dedicated to Sergeant Johnson.
"We wanted to do more for my father and Sergeant Henry Johnson," said Elsie. "I think we are the only family that has an African American hero whose story will be told at a Jewish Cemetery. They were forgotten for almost a century, and we don't want that to happen again."
Carrot-Top Industries always proudly supports military service members, veterans and their families, and we are glad to do our small part to honor a hero like Sergeant Shemin. We were honored when Elsie took the time to share her family's story and her father's monument photos. "The flags flying at the burial site are both beautiful and respectful for the many that come for a visit. My family thanks you for your assistance," said Elsie. "Bill Johnson, a Carrot-Top Customer Care Professional, helped me choose the most beautiful and long-lasting flags for my father Sergeant William Shemin. It is always a pleasure to deal with the folks at Carrot-Top Industries."
Do You Have a Story to Share?
Selling American flags, military flags and patriotic products means we are continually inspired by stories of heroism and greatness from our customers. If you have a story to share or have questions or comments about this blog, please email us at marketing@carrot-top.com.
If you need to purchase flags or patriotic products, you may order by phone at 800-628-3524 from 8 a.m.-5 p.m. ET or on our website any time day or night. If you need assistance, you may also contact our Customer Care Center by email at service@carrot-top.com or through our Contact Our Team online form. We offer fast shipping on all of our in-stock products.
Photo Credits
Photos of the 2015 Medal of Honor ceremony with President Obama and Sgt. Shemin's daughters Elsie Shemin-Roth and Ina Bass: U.S. Army photo by Sgt. Garry McFadden/Released
Photos of Sgt. Shemin during WWI: U.S. Army
Portrait of Sgt. William Shemin in uniform overcoat and memorial burial site photos courtesy of the Shemin family.
Online References
www.army.mil/medalofhonor/shemin/
www.army.mil/medalofhonor/johnson/
www.stripes.com/theaters/us/minority-veterans-of-world-war-i-to-be-considered-for-medals-of-honor-1.611033
www.armytimes.com/news/your-army/2015/06/02/wwi-heroes-johnson-shemin-receive-medal-of-honor/
www.cmohs.org/news-events/medal-of-honor-recipient-profile/jewish-american-heritage-month-william-shemin-world-war-i/