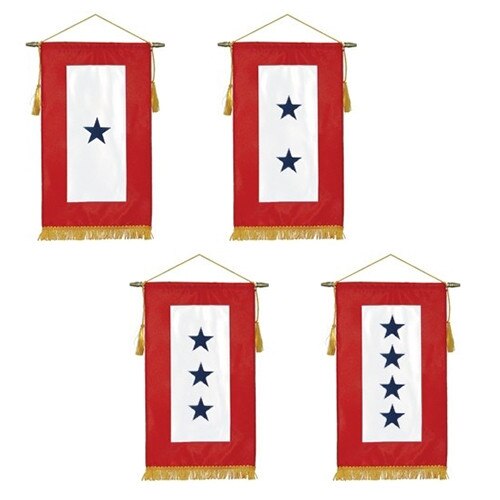 Blue Star Service Banners
Details
For generations, Blue Star Service Banners have been an understated way for families to mark sons and daughters (or parents) who are in active duty military service. Carrot-Top's Blue Star Banners offer a traditional design for these families:
Show your support for a family member on active duty
Service banner is heavy satin, 8 ½" x 14"
Digitally printed with single reverse image
Gold fringe bottom and overlock stitch edges
Mounted on gilded gold bar with gold spearheads on either side
18" gold tassel attached to bar for hanging
Choose from 1-4 blue stars, with each star symbolizing a family member

Proudly Made in U.S.A.
Why Buy a Blue Star Service Banner?
The Blue Star Service Banner was designed in 1917 by an Army captain, marking his sons' service in WWI. These elegant, dignified service flags and banners became quite common in WWII, with the enormous numbers of men and women who were in uniform and have remained an iconic symbol of service since then. They have since been formalized with silver stars to represent those wounded in action and gold stars for those who were killed.
Carrot-Top's Blue Star Service Banner is designed for display on a wall or window, with a gilded bar and spearheads on either side and an 18" tassel for hanging. The banner is top-quality satin with vibrant colors and a gold fringe bottom, and is available with one to four stars.
Questions? Please fill out our contact us form and one of our Customer Care Representatives will be happy to get in touch with you!