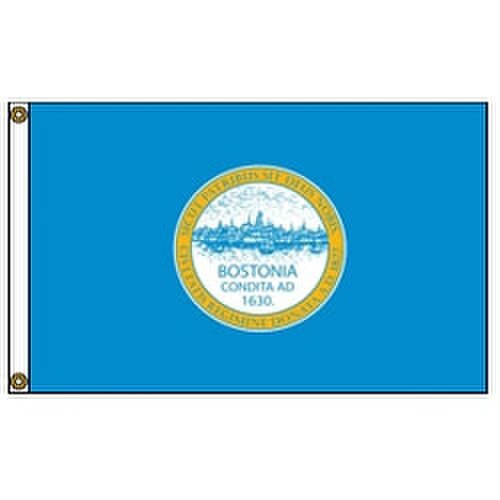 Details
The Boston City flag showcases a regal view of the waterfront skyline of one America's oldest cities. The Boston Flag features a sky blue field with the Seal of the City of Boston at its center. The Seal contains the Boston city motto which translates to "God be with us as He was with our Fathers" taken from First Kings, Chapter 8. The seal also contains the year Boston was founded, 1664, and the year of the city's incorporation, 1822. For more information about Boston City flags see the description tab below.
The city of Boston was founded on the Shawmut Peninsula by Puritan settlers from England in 1630. The city of Boston is considered one of the eight great "alpha" cities in the U.S and is a world leader and innovative center in finance, sports, professional business services, education and research. Boston, America's original city on the hill continues to be a "City of Champions."
Boston City flags are available in five sizes ranging from 2'x3' to 6'x10'. Our Boston City Flags are the best all-around flags available and feature durable yet lightweight nylon and bright, vivid colors with beautiful artistry. Carrot-Top's Boston flags pair perfectly with Massachusetts State flag and an American flag. Honor the New England Patriots or your favorite NFL team with one of our NFL team flags or one of Boston's great universities with our NCAA college sports flag. Carrot Top does it all.