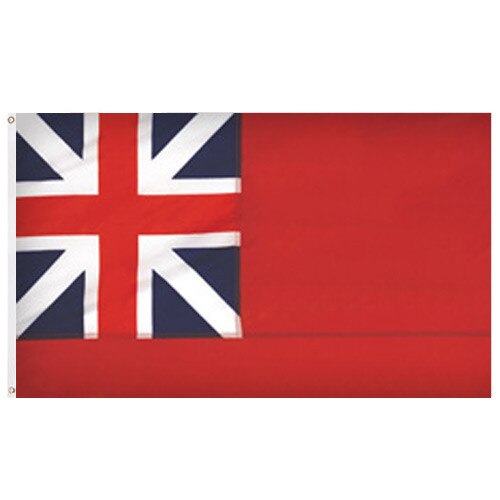 Details
The British Red Ensign Flag, also called the Red Duster, originated as an English ensign flown by the Royal Navy in the early 17th century. This flag is currently used as the civil ensign of the United Kingdom. It reflects the union of England and Scotland which became the newly united nation of Great Britain.
Our British Red Ensign flags create dynamic displays which symbolically echo America's past ties to Great Britain and our path toward freedom. For more information about our Red British Ensign flags see the description tab below.
British Red Ensign flags are timeless emblems of both American and World History. These naval flags were the ensign for Great Britain from 1701-1800. The flag replaced the Scottish Red Ensign flown by the Scottish Navy and was the flag that flew over the thirteen American colonies before the American Revolution. The Red Duster ensign pre-dates the flag of the United States.
British Red Ensign flag are fashioned with strong, durable nylon that dries in moments and flies effortlessly in the slightest breeze. These flags showcase a red field with Union Jack or British flag in the canton. British Red Ensign flags are finished with a strong canvas header and solid brass grommets. Display this historic banner at your home, office, school, building or boat. Carrot-Top offers a broad range of products including flags , patriotic products and custom items. Our American flags are available in several sizes and fabrics include our exclusive flags, the Beacon® Nylon American flag and the Patriot Polyester American flag, as well as mini American flags and US State and City flags. Carrot-Top also offers a broad array of Historic U.S. flags, Historic International Flags, military flags and Military lapel pins. For greater details about our Red Duster flags call (800) 628- 3524 and speak with any of our customer service representatives.