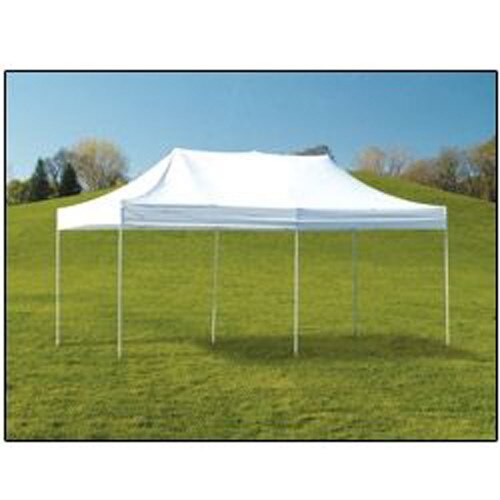 Large Pop Up Canopy Tents
Details
The large pop up canopy tents are perfect for use at any outdoor function, special occasion or event. The 10'x20' canopy tents are made for all-weather use and are built with quality to last longer than other tents. These tents feature a white canopy and white frame.
For more about these large event tents read the description tab below. To initiate an order one of these canopy tents enter the number of units desired and click on the "Add to cart" button.
Our large pop up canopy tents are perfect to shelter large items and to provide cover for a large crowd. These canopy tents measure 10' in length and 20' in width, twice the width of our regular event tents. The tents are constructed using durable and long lasting polyester material ideal for harsh and unforgiving weather conditions. Our 10'x20' canopy tents are designed with a perfect balance to withstand both wet weather and damage from harmful U.V rays in direct sunlight. The canopy of the large event tent is white, they are ideal for hot and sunny weather as they reflect heat and provide shade and shelter to keep visitors comfortable.
The large pop up canopy tents come with a collapsible frame with a white powder coast finish that matches the color of the canopy. The collapsible frame makes the tent extremely portable and it can also be stored with ease. Pick up one of our tent carrying cases to transport you tent to any location. A tent ballast is recommended for use with our 10'x20' canopy tents to provide more stability and to anchor the tent down.
For similar products see our entire collection of canopy tents and custom tents for outdoor events and special occasions. We also carry several other products ideal for events in our facilities and events section. Carrot-Top offers a wide range of products that are excellent attention getting decorations for your event as well. Our advertising flags, advertising banners and pennant strings are perfect additions to attract people passing by. You can also customize flags, banner and many more items to give your event a unique look and identity. See all of our custom products to find perfectly personalized items for your event. Our large American flags are often used in roadside displays to attract attention as well. Our outdoor U.S flags are available in extra-large sizes including 60 foot flags. For more about our products please fill out our contact us form and one of our Customer Care Representatives will reach out to you!