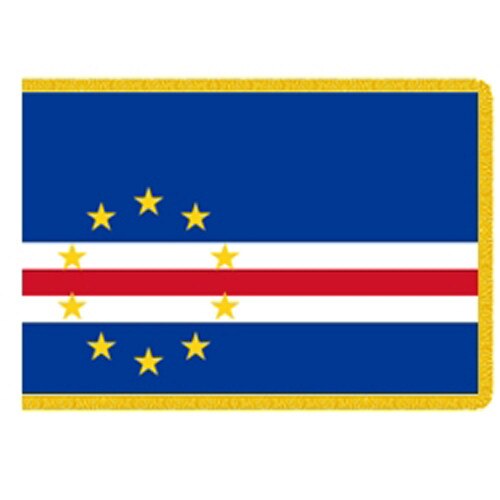 Details
Our Indoor Cape Verde flags are constructed from heavy-duty nylon and are ideal for official displays in government buildings as well as any other indoor flag display.
Flags measure 3'x5'
Can be used with any of our indoor flag poles
Comes with a fitted gold fringe for added contrast
Vibrant colors with a reflective finish
Our Indoor Cape Verde flags are perfect for official flag displays in any setting. The indoor flags are fitted with a gold rayon fringe that runs along the outer sides of the flag. The hoist or inner most side of the flag is fitted with a lined pole sleeve to accommodate and indoor or parade flagpole. These Indoor Cape Verde flags are designed to last for long periods in indoor displays and can be used for months on end.
The Indoor Cape Verde flags feature a blue background said to represent the endless limits of the sky and the sea. The flags also feature three horizontal stripes that run across the flag approximately 1/3 of the way up the flag. In the bottom left section of the flag is a circle made of 10 five-pointed yellow stars, one to represent each of Cape Verde's islands.
See our mini Cape Verde flag and the outdoor Cape Verde flags for flag displays in outdoor settings and mini flags for use as giveaways. The indoor flags can be paired with any of our indoor and parade flag poles. Our outdoor poles consist of Commercial flag poles and residential flagpoles. See all of our different American flags, Custom products and property management goods to find items to suit your needs. For further details please fill out our contact us form today!