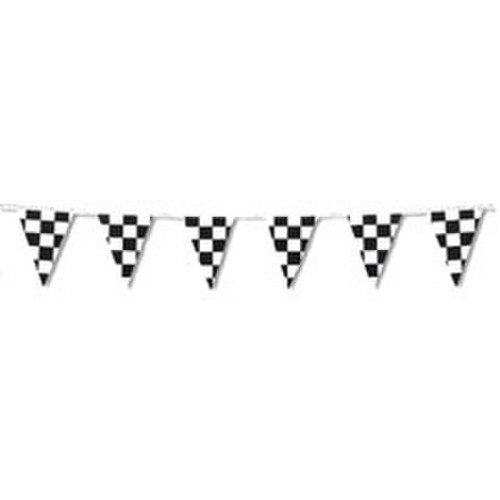 Checkered Flags Pennant Strings
Details
The checkered flag pennant strings are a great way to decorate your event location and attract attention from people passing by. These pennant strings resemble checkered flags used in motorsports making them a great addition to any racing themed event as well.
The checkered flag pennant strings are available in two different lengths and two different materials. Pick out the ideal fit for your purpose. For more about these pennants see the description tab below the product selection options. To add items to the cart select from 4-mil or Gator Hydeâ"¢ 8-mil fabric and then select your size using the drop down menus below.
The checkered flags pennant strings are available for sale in two different materials, 4-mil and Gator Hydeâ"¢ 8-mil plastic. "˜Mil' refers to the thickness of the flag where 4-mil plastic is 4/1000 of an inch thick. The Gator Hydeâ"¢ 8-mil plastic pennants are more durable and best for use in longer displays or outdoor displays. Both variations of the pennant strings are also available in a 25 foot string and a 100 foot string. The pennants or checkered triangles measure 12" at the base and 18" on the other two sides. The base is double stitched on to the string to make for a strong attachment. The black white pennants are placed approximately 13" apart to give a uniform look right across the string. The pennants are attached to a strong vinyl string approximately ¼" in width. The vinyl string attached to our checkered pennant flags is double the thickness of a regular string.
Browse through all of our pennant strings to find one that matches your needs. Our other attention-grabbing products also include advertising flags like our blade flags, street banners, and a range of custom products. All of our custom products are tended to individually by graphic designers to make sure that the design is exactly what you are looking for. See our unmatched collection of American flags as well. Carrot-Top has been a proud supplier of American flags and patriotic products for more than three decades and takes pride in offering U.S made patriotic products. For more about our products please fill out our contact us form and one of our Customer Care Representatives will reach out to you!