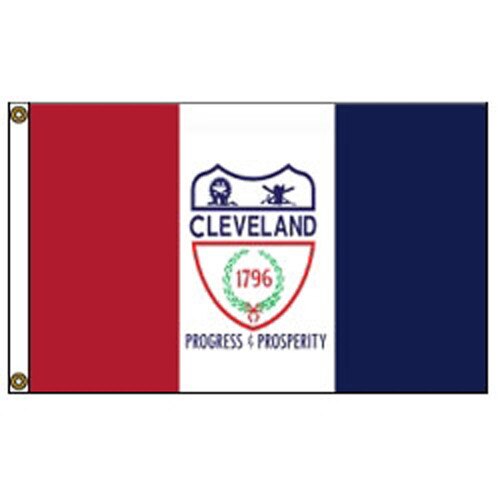 Details
The Cleveland city flag was designed in 1895 by Ms. Susan Hepburn, a Cleveland high school student. Ms. Hepburn's classic design beautifully captures the ideals and prosperity of the city that would come to be the "Rock and Roll Capital of the World." The Cleveland flag features a tricolor banner of red, white and blue. The center white stripe displays an American Shield with the word "Cleveland" across its center and the year 1796 at its base. 1796 is the year Gen. Moses Cleveland founded and named the city. The lower section of the shield is in red, the upper section blue. In the upper left corner of the shield are an anvil, hammer and wheel. The upper right corner bears an anchor, windlass and oars. All of the images symbolize Cleveland as a city of great industry and respect its deep maritime interests. Cleveland is a major port on the Great Lakes.
The Cleveland city motto, Progress and Prosperity" denotes the economic boom period Cleveland experience in the early parts of the 20th century. For more information about Cleveland City flags see the description tab below.
Our Cleveland City Flags are the best all-around flags available. Cleveland flags are constructed with durable yet lightweight nylon, bright colors and exquisite artistry. Carrot-Top's Cleveland flags dry quickly and wave beautifully in the slightest breeze and are available in five sizes ranging from 2'x3' to 6'x10'. Carrot Top offers an assortment of products to complement your Cleveland flag. Show your support for the city's Cleveland Browns with one of our NFL team flags or choose to honor your favorite college team with our NCAA college sports flags. Carrot Top also features Ohio State flags and American flags.