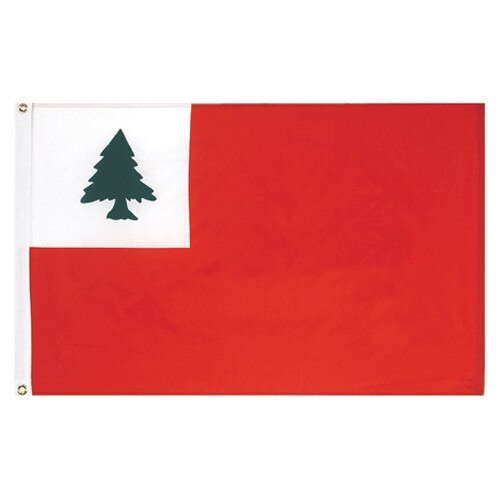 Details
Continental Flags are one of America's most unique flags. These flags build on a version of the British Red Ensign or Meteor Flag. Our Continental Flags are made with strong, woven nylon that dries quickly. These flags, also known as the Flag of New England, are built to last and look great outdoors or as part of an indoor display. Meteor Flags are available in two sizes. To get your Continental flag select the size you desire, enter the quantity and click "Add to Cart" in the blue field below. For more information about Continental Flags see the description tab below.
Continental Flags are the flags thought to have been used by American forces at the Battle of Bunker Hill. These classic New England Flags omitted the Union Jack of Great Britain and included a Pine Tree- a symbolic image of New England and the young America. Though simple in design, the Continental flag classically portrays the values of the American colonist with a green pine tree on a white background. This Continental flag was many of several Pine Tree Flags of the Revolutionary Era.
Our Continental Flags are available in two convenient sizes sure to fit your flagpole: 2'x3' and 3'x5'. The flags are finished with a strong canvass header and solid brass grommets. Our Nylon flags are built for outdoor use in moderate climates with milder winds. Carrot-Top supplies the finest flags and other patriotic products for one-time events, ongoing presentations and permanent displays. Our American flags are available in several sizes and fabrics which include the Beacon® Nylon American flag and our Patriarch® Polyester American flag. Browse our vast collection of Historic U.S. flags as well as our Historic International Flags for great emblems of history to display. Pair your flag with one of our US historic lapel pins or our many distinguished Military lapel pins. For more information, please fill out our contact us form and one of our Customer Care Representatives will be in touch with you!