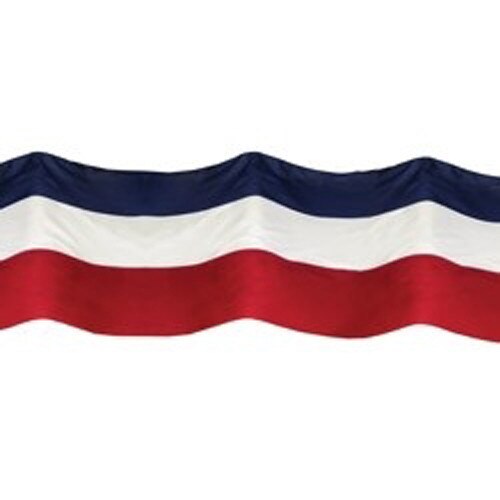 Cotton Bunting - 36" Width
Details
Cloth bunting is a staple for patriotic decorations, and Carrot-Top's Cotton Bunting is a perfect choice.
Ideal for decorating streets, businesses, homes
Bold three-stripe design of traditional OG Red/White/OG Blue
Soft cotton fabric drapes well
Stripes use sewn construction
36" wide, choose between custom-cut lengths or a 60-yard bolt

Proudly Made in U.S.A.
Why Buy Cotton Bunting?
Cotton Bunting is a great, traditional patriotic decoration for homes, businesses, storefronts and streets. Customers love the soft texture of this cloth bunting and find that it drapes nicely wherever they want to display it. While cotton provides an authentic, traditional look, please remember that the colors can bleed when wet; it should be used indoors or for limited outdoor use. Remember that the Flag Code states that the red stripe should be uppermost when displaying bunting.
The 60-yard length allows you to decorate large areas at a reasonable price – however, this patriotic decoration is also available in per-yard lengths. When ordering the custom-cut bunting, all you need to do is to enter your desired length in yards in the QTY box.
With top-grade fabric, dyes and stitching, you'll find that our Cotton Bunting is a cloth bunting you'll use over and over for porches, windows, stages, storefronts and more.
Got questions? For more information, please fill out our contact us form, and one of our Flag Pros will be in touch with you!