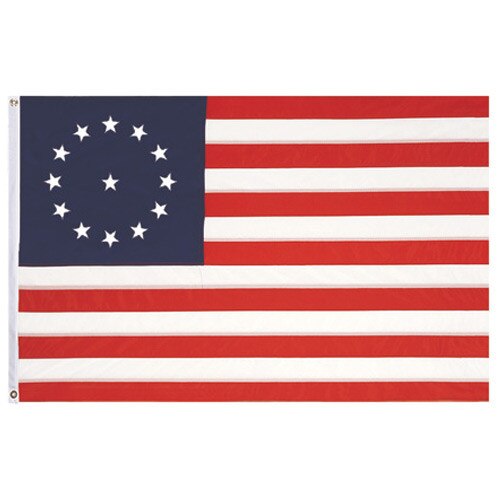 Details
Cowpens flags are classic emblems of American history. This early version of the American flag waves beautifully in the slightest breeze. Carrot-Top's nylon flags highlight:
100% super strong, woven SolarMax® nylon
One convenient size, 3'x5'
Durable materials designed for long-term use
Heavy-duty canvas header and solid brass grommets
Made in the USA
Cowpens flags are constructed of tough, long-lasting nylon that looks amazing in the wind. Cowpens flags, also known as the 3rd Maryland flags, have white five-pointed stars arranged in a circle on a blue field. 12 stars form the circle with the 13th star in the center. The flag was said to be present at the Battle of Cowpens (1781) during the American Revolution.
Carrot-Top fashions a broad array of products including Historic U.S. flags, Historic International Flags and American flags. Our Beacon® Nylon American flag and our Patriarch® Polyester Flag are exclusive Carrot-Top fabrics noted for their durability and superior craftsmanship. For more information about our Cowpens Flags please fill out our contact us form and one of our experienced Customer Care Representatives will reach out to you!