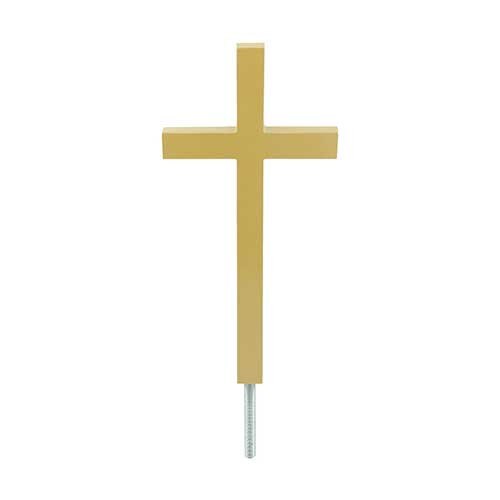 Details
The cross flag pole topper is ideal for a flag display at a religious institution or paired with a religious flag. They are made of aluminum making for a perfect long term flag pole ornament in all weather conditions. These cross flag pole toppers are available in two sizes both with a gold plated finish over the solid aluminum.
For more information about the cross flag pole topper and size specifications see the description tab below.
The cross flag pole topper is a great addition to your flag display set. These toppers can be used on both indoor and outdoor flagpoles. The cross topper is attached to a spindle that can be removed when wanted. The topper can then be attached to a ferrule allowing it to be placed on an indoor or parade flag pole.
The cross flag pole topper measures approximately 13" x 6½" at the furthest points and features ¾" thick aluminum. The removable spindle measure ½" in diameter and is 2¾" in length. The cross topper is perfect for outdoor use and can be used indoors with an additional ferrule. The 13" topper is recommended for use with a 25' - 30' flagpoles and 8.5" cross recommended for 20' or smaller flagpoles.
Carrot-top also offers an indoor cross flag pole topper and a variety of other indoor flagpole accessories and outdoor flagpole accessories. See our commercial flag poles and residential flagpoles to replace you old and worn out poles. Our Commercial flagpole and Architectural flagpole come with a life time guarantee. For more information, please fill out our contact us form and one of our Customer Care Representatives will be in touch with you!