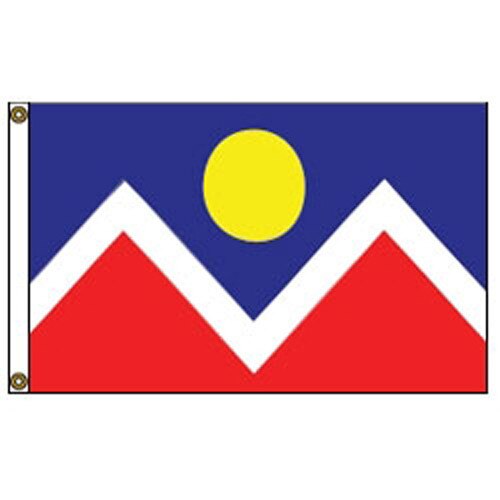 Details
The flag of the City and County of Denver beautifully symbolizes the city's landscape, location and heritage. The Denver City flag was designed by North Denver high school student Margaret Overbeck and adopted in 1926. A white zigzag design horizontally separates a blue field above from the red field below. A yellow circle centers the flag. The design perfectly depicts the sun in a blue sky above the snow-capped Rocky Mountains. The color yellow signifies the gold found in the state's hills while red denotes Colorado's red colored earth. The zigzag pattern also honors Denver's Native American heritage. The classic outline perfectly represents the "Mile-High City". For more information about Denver City flags see the description tab below.
Denver is the capital and largest city in the state of Colorado. Denver was founded during the gold rush of November 1858 as a mining town in the Kansas Territory. The city is named for Kansas Territorial Governor James W. Denver. Interestingly, Denver has 300 days of annual sunshine and brews more beer than any other city in the U.S.
Denver City flags are available in five sizes ranging from 2'x3' to 6'x10'. Our Denver City Flags are the best all-around flags available and are designed with intricately crafted materials. Denver flags are constructed with durable yet lightweight nylon, bright colors and exquisite artistry. Carrot-Top's Denver flags dry quickly and wave beautifully in the slightest breeze. Choose from our assortment of flagpoles to create a distinguished look to honor the City of Denver. Salute Denver's Broncos with one of our custom NFL team flags or honor your favorite college with our NCAA college team flags. We also feature Colorado State flag and American flags. Carrot Top does it all.