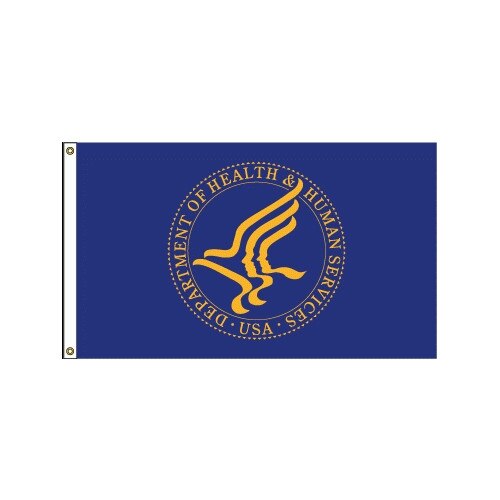 Dept Of Health And Human Services Flags
Details
The Department of Health and Human Services flag features the HHS logo on a blue background. The HHS seal on the flag is featured in yellow with the words "DEPARTMENT OF HEALTH AND HUMAN SERVICES.USA." printed in a ring surrounding the seal.
The Department of Health and Human Services flag is available in several sizes, including official Agency specified sizes. The HHS flags are also available in two designs for outdoor and indoor use. For more information, refer to the description tab below the product selection options.
The Department of Health and Human Services flag features the HHS seal on the center of the flag. The seal is filled with symbolic significance and features two outer yellow curve lines taking the shape of a spread eagle and two more yellow lines nested within the 'wings' of the eagle. The nested yellow lines are curved to take the shapes of human faces. The logo symbolizes the American people sheltered by the wings of the American eagle, suggesting the Department's responsibility to the American people.
The outdoor HHS flags come with a durable header and grommets to be attached to outdoor flagpole ropes with snap hooks. The indoor flags are finished with a pole sleeve for use with our indoor flagpoles and parade poles. The outdoor flags are available in 3'x5', 4'x6' and 5'x8' sizes. The indoor flags are available in a 3'x5' size for 8' poles and a 4'x6' best suited for our 9' indoor poles. Both indoor flags can also be used with our Majestic™ telescopic flagpoles. Official agency flags have to be sized to a ratio of 1:1.9 and are custom-made upon request with embroidered HHS seals. For further details, please fill out our contact us form, and one of our Flag Pros will be in touch with you. Our in-house experts have a wealth of knowledge about all of our products and are willing to help find the best solution.
*INTENDED FOR PURCHASE BY FEDERAL AND STATE AGENCIES ONLY.
For more information about the Department of Health and Human Services flag or seal, visit the HHS official website.