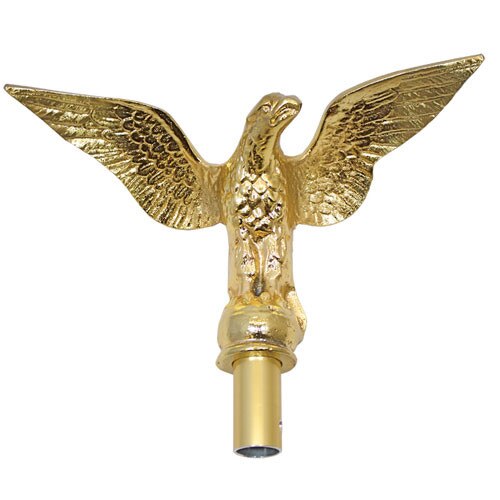 Details
Our eagle flag pole topper is a great fit for any indoor flag display. This aluminum eagle flag pole topper is ideal for long term displays in indoor settings. It comes attached to a removable ferrule. The flag pole topper can be attached to any indoor flag pole with a suitable ferrule. Proudly Made in the U.S.A.
For more about the eagle flag pole topper for indoor poles see the description below the product selection options.
The indoor eagle flag pole topper is a made of durable aluminum and features a polished gold painted finish. The ornament is on an eagle perched on a gold ball with its head facing left. The eagle has a wingspan of 10 1/4" and a height of 8"measured from the top of the wing to the bottom of the ferrule. The removable ferrule attached has a diameter of 7/8". The eagle flag pole topper can be used with our exclusive Majestic™ telescoping poles and our indoor oak flag poles.
We also offer a large variety of other indoor flagpole accessories and parade accessories for your flag displays. In addition to accessories our product line features indoor flag pole kits that include all accessories necessary for a full flag display. We also carry residential flag poles and large commercial flag poles for outdoor flag displays. Carrot-top is your one-stop-shop for flags, custom products and special event products. For more information about the indoor eagle flag pole topper or any of the other products seen here please fill out our contact us form and one of our Customer Care Representatives will reach out to you!