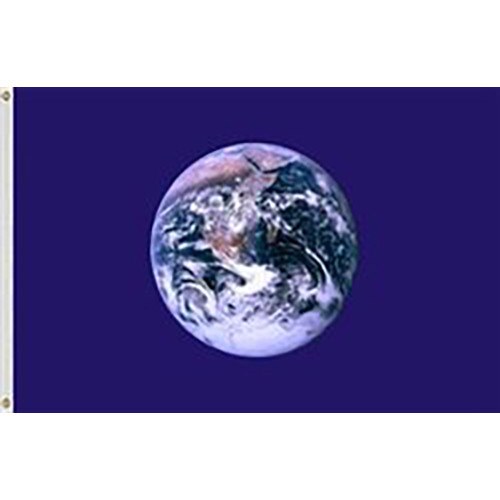 Details
Earth Flags are constructed with premium nylon and showcase a view of our planet in rich bold colors. These flags vividly depict the earth's beauty with superior, photo quality images and display the Earth on both sides of the flag. Our Earth flags are available in one size and feature exquisite lock stitching and fray resistant seams. These flags are perfect for Earth Day celebrations, space enthusiasts, environmentalists and everyone who loves our planet. Order your Earth flag now by entering your desired quantity and clicking "Add to Cart". For more information about our Earth Flags see the description tab below.
Earth Flags celebrate the beauty of our planet with a beautiful depiction of Earth. Cast on a blue field which mirrors space with bright white stars, these flags are made with the finest materials which including the highest quality nylon. Earth flags are finished with a super strong canvas header and two solid brass grommets. Celebrate Earth Day on April 22 with one of these beautiful flags or display it throughout the year. Earth flags measure 3'x5' and are built for outdoor use but may also be displayed indoors.
Carrot-Top offers a broad range of products which include patriotic items, custom products, and flags. Our collection of flags includes religious flags, historic flags and American flags. The Patriarch® Polyester American flag and our Beacon® Nylon American flag are two exclusive Carrot-Top flags noted for their craftsmanship and durability. Carrot-Top also fashions international flags, US State and City flags, and custom flags.