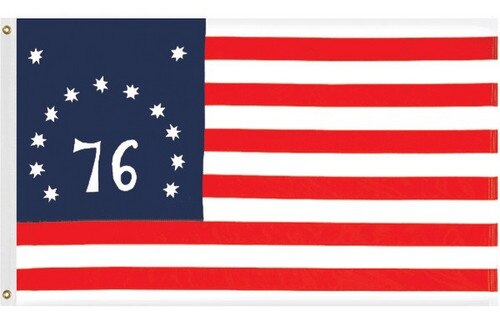 Embroidered Cotton Bennington Flags
Details
The Bennington Flag, while never an official American flag, is an important addition to any historical flag collection. Carrot-Top's Embroidered Cotton Bennington Flag is designed for indoor use and is available in three sizes.
Embroidered Cotton Bennington Flag is perfect for museums or historic sites.
Choose from 2' x 3', 3' x 5' and 4' x 6' sizes
Top quality construction, embroidered details on 100% Bulldog® cotton
Flag features two rows of stitching, four rows at the fly end
Finished with header and grommets for ease of display
Single reverse construction shows correctly on one side, reverse on the other

Made in the U.S.A.
Why Buy an Embroidered Cotton Bennington Flag?
The Bennington Flag, sometimes called the 1776 Flag, was devised to mark the 1777 Battle of Bennington in Bennington, Vermont. Not long after this battle, General Burgoyne surrendered his unit of the British army at Saratoga, New York; this surrender marked a turning point in the Revolutionary War.
While it was never officially adopted as an American flag, its unique design makes it a favorite among collectors of historical flags. The large "76" in the flag's blue canton is under an arch of 11 stars, with two more stars above; together, they symbolize the 13 colonies.
Other interesting details of the Bennington flag include a larger blue canton than other designs (the canton is nine stripes deep) and a pattern of 13 horizontal stripes that begins and ends with a white stripe rather than red. In addition, each star has seven points rather than the customary five points. Legend has it that the original "1776 Flag" was carried off the field by Nathaniel Fillmore, grandfather of Millard Fillmore, the thirteenth President of the United States.
Carrot-Top's Bennington Flag is rendered in heavy 100% Bulldog® cotton with embroidery for exquisite detail. Cotton flags are not intended for outdoor use; their colors will run and bleed if the flag becomes wet. This "1776 Flag" is intended for indoor display, displayed in a frame or from a flagpole. It would be perfect for display on an outrigger pole so it can hang at an angle to show its details. It is not, however, advisable for use with a triangular flag case. Choose from 2' x 3', 3' x 5' or 4' x 6' sizes for this unique historical flag.
Questions? Please fill out our contact us form, and one of our Flag Pros will be happy to get in touch with you!