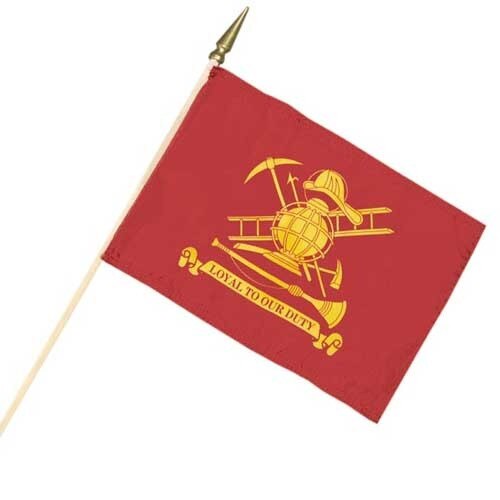 Firefighter Grave Marker Flags
Details
Firefighter American Flag Product Details:


Our fire fighter flags grave markers are a great way to honor your fallen firefighter with a subtle and ceremonial tribute recognizing his or her service to their community and contribution to our nation.


Firefighter cemetery flags feature a red background with the fire department logo and a scroll that reads "loyal to our duty" in yellow
These 12"x18" poly/cotton flags are mounted onto a wooden dowel with three staples and topped with a 2 ¼" Gilded spear
Our Fire Department grave marker flags are sewn on all four sides and securely stapled to the dowel or staff

Fallen firefighter Flags may be used as a stand-alone in-ground flag, and you can attach a

Custom Aluminum Firefighters Grave Marker

.

These flags stand 30" tall and have a 3/8" diameter
Flags are designed for temporary outdoor use in all weather conditions


Fire fighter flags grave markers are traditionally used to honor fallen firefighters. Our grave markers firefighter American flag feature the fire department logo which symbolizes the life, service and sacrifice of firemen and women everywhere. The Maltese cross represents bravery, loyalty and protection while the helmet within the Maltese symbolizes safety and the trumpet leadership. The ladder, pickaxe and pike pole are all common tools of firefighters.


Explore our Different Products to Honor Our American Heroes!

Carrot-Top offers a broad array of civil service and military grave markers to honor America's heroes.


Furthermore, browse our impressive collection of American flags and U.S. State Flags for great ways to show off your patriotism. The Beacon® nylon American flag and the Patriarch® polyester American flags are two of the finest flags available.


Are you Looking for Advice? Contact us today!


Carrot-Top Industries experts are happy to answer any questions you have in mind. Please fill out our contact us form and one of our Customer Care Representatives will be in touch with you!