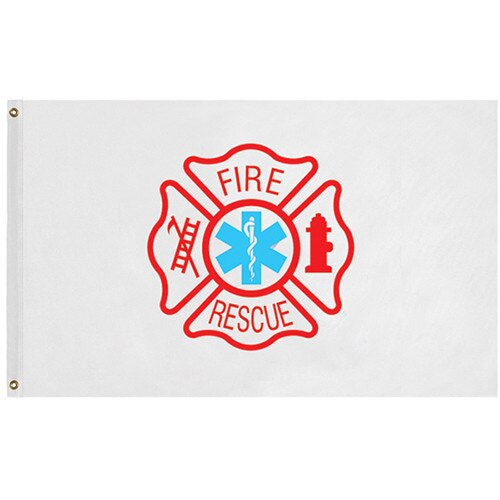 Details
Fire Rescue flags are made up of a white background with a Maltese cross centered on it printed in red. Inside the center of the Maltese cross is a star of life. These flags represent fire rescue departments all over the country. Fire rescue departments are involved in fire suppression, fire protection and advanced emergency medical services.
Our fire rescue flags measure 3'x5' and are made of nylon fabric. See the description tab at the bottom of this page for more details.
Our fire and rescue flags are built using industrial strength nylon for long-term use. These flags are fitted with a header and grommets for use with any outdoor flag pole. The grommets allow for easy attachment to a flag pole halyard and flag hook apparatus which is then connected to a flag pole. Our fire rescue flags are all built in the USA to represent brave Americans who risk their lives to serve their community.
Fire Rescue flags act as banners that represent Fire rescue departments across the nation. Fire rescue personnel are cross trained in both emergency medical services and firefighting. These individuals are able to carry out advanced rescue missions when people are affected by fires. Most often city EMS units will combine with Fire departments to create a fire rescue unit. The merging of EMS and firefighting services is symbolized in flags of fire rescue departments with the inclusion of the star of life in the center of the fire department logo.
Browse through our civil service flags to find a flag to show your support for fire fighters, police officers and other civil servants. We carry indoor and outdoor fire department flags, ceremonial pike poles and parade axes ideal for use in special events. Show your respect and gratitude for fallen firefighters with fire fighter remembrance flags. We also carry many different military and memorial products. Pair a military or civil service flag with one of our American flags to show your national pride. For more about our products and services please fill out our contact us form and one of our Customer Care Representatives will be in touch with you!