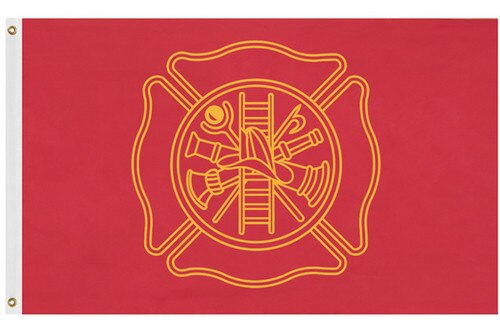 Fire Department Logo Flag
Details
The fire department logo flag features a red background with a skeletal or line-drawn version of the fire department logo centered on it. The fire dept. logo is printed in yellow, the flag employs the iconic red and yellow associated with fire fighters all over the nation.
These fire department logo flags are made using durable nylon fabric and are designed for prolonged outdoor use. For more about the flag see the description tab below.
The fire department logo flag measures 3'x5' and is made using solid 200 denier, industrial strength nylon fabric. Widely regarded as one of the most flexible flag fabrics, this 200 denier nylon is perfect for areas with moderate wind speeds and large amounts of rainfall. The flags are finished with a header and grommets for use with any outdoor flag pole.
The fire department logo flag's includes a logo which consists of a Maltese cross and several tools used by fire fighters. The tools are printed inside a circle placed in the center of the cross. The tools include a ladder, fire fighter helmet, pike pole, trumpet and more. The cross on the fire department logo flag represents loyalty and protection. The helmet stands for safety and the trumpet is a representation of leadership.
We proudly offer several different kinds of flags to represent fire departments. Browse through all of them to find one that fits your needs. Also see our grave markers that include several different variations of grave marker crafted to honor fallen fire fighters. We also have many different military and memorial products to honor the brave soldiers of the military. Pick out a high quality American flag to display together with one of our military or civil service flags. For more about our products please fill out our contact us form and one of our Customer Care Representatives will be in touch with you!