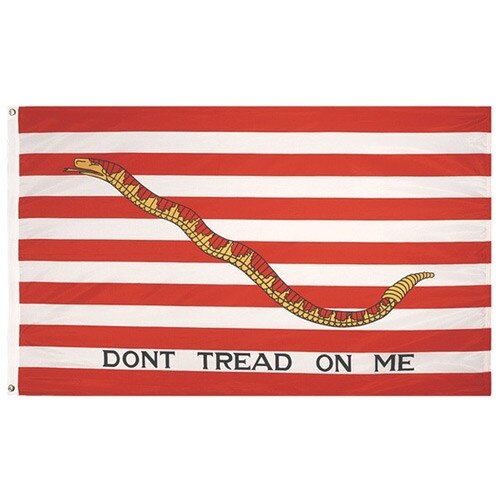 Details
The First Navy Jack Flag was revived by The Secretary of the Navy for all US Navy vessels beginning September 11, 2002. The flag will be flown until the end of the global war on terrorism.
Fashioned with lightweight nylon
Dry quickly and fly in the slightest breeze
Are finished with a strong canvas header and solid brass grommets
Flag Sizes available: 2'x3', 3'x5'
First Navy Jack Flags are the current U.S. jack authorized by the United States Navy. These flags are noted as the first U.S. Navy jack flown in the earliest days of the republic. These flags feature red and white stripes and depict an uncoiled rattlesnake, a symbol of colonial resistance, and the motto "Don't Tread on Me".
Our First Navy Jack Nylon flags measure 3'x5' or 2'x3'. The flags are fashioned with strong woven nylon built for long-term use in moderate climates with mild winds. This Navy Flag looks great everywhere and is used by the US Navy and by others as an unsanctioned sign of protest as a commemoration. These flags were displayed on a makeshift memorial on Boylston Street following the Boston Marathon bombings. Carrot-Top is a proud supplier of the highest quality flags, including American flags in all sizes, styles and fabrics. Our Beacon® Nylon American flag and Patriarch® Polyester American flag are two of the finest flags available. For further details, please fill out our contact us form, and one of our Flag Pros will be in touch with you.