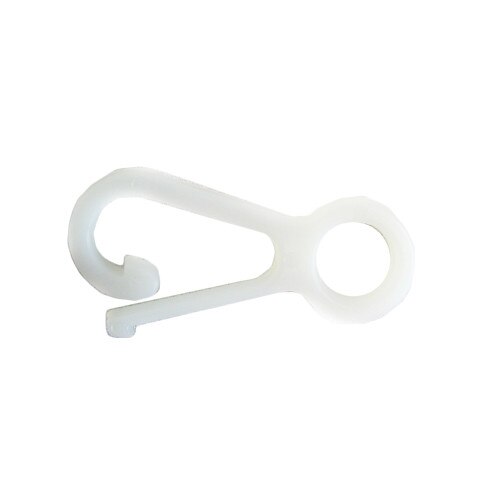 Details
Nylon flag hooks are a great way to prevent damage to your flag pole and flag. These snap hooks are ideal for use with a satin or fiberglass flag pole. The nylon flag hooks are not recommended for use with flags measuring larger than 3'x5' due to their compromised strength.
Nylon flag hooks are similar to a covered brass flag hooks. These hooks do not create as loud a clanging noise and are less likely to cause pits on the flag pole. Pitting or tearing of the flag pole's outer layer can lead to tears on the flag. See the description tab below the product options for more information.
Nylon flag hooks can extend the life of both you flag pole and flag. These snap hooks are less abrasive than the brass or nickel kind and create less noise upon impact against the flagpole. It is common to see pitting or tears on the surface of a flagpole due to constant contact with an uncovered snap hook. These pits can cause the flag attached to snag and tear. Nylon flag hooks are also ideal for use with fiberglass flagpoles. Fiberglass flagpoles can be easily damaged by other snap hooks whereas nylon snap hooks are gentler on the surface. See our nylon hook for fiberglass flagpoles as well.
However, nylon flag hooks are not as strong as brass or nickel snap hooks and can only support 3'x5' flags. Using these nylon snap hooks with larger flag may cause the hook to break and the flag to come free of the flag pole.
See our full range of flagpole accessories and parts. Carrot-Top also offers a large variety of American flags, our Beacon® nylon American flag and Patriarch® polyester flags are exclusive branded products; a result of our 3 decades in the flag industry. See our exclusive Majestic™ Architectural, Commercial and light-commercial flagpoles as well. In addition to flag related products Carrot-top offers many personalized products like custom mats, tents and street banners. For further questions about our products please fill out our contact us form and one of our customer care representatives will reach out to you!