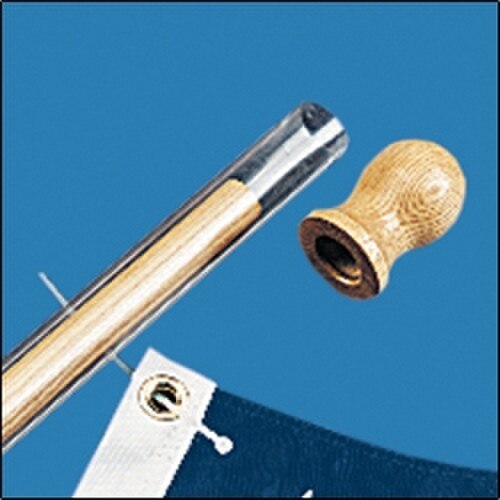 Details
Flag unfurlers are essential accessories when using a wooden outrigger pole or any other outdoor mounting pole. The plastic flag unfurler is designed to be used with flagpoles with a diameter of 1" or less and flags measuring 3x5' or smaller. The length of the unfurler is 38".
The unfurler features a plastic tube that slides over a flagpole and is intended for use with flagpoles mounted at 45°. Please note that plastic flag unfurlers are not designed for use with spinning flagpoles.
You can find out more details in the Description tab:
Flag unfurlers keep your flag from untangling on the pole and being harmed. They allow the flag to follow the wind direction and not wrap itself around the flagpole.
This unfurler measures 38" in length and features a tube made using recycled plastic materials that can easily slide over flagpoles measuring 1" or less in diameter. Once the flagpole is inserted, the flag can be attached to the pole and unfurler using flag ties that are provided.
To install, slide the unfurler over the flagpole and position approximately ½" below below the bottom of your flagpole ornament. Then slide the plastic ring with the screw (provided) over the pole and position flush with the bottom of the plastic unfurler. Finger tighten the screw against the flagpole (do not overtighten). To attach a flag simply thread the provided flag cable ties through the flag grommets, place the tie around the flagpole and firmly tighten to fasten the flag to the plastic unfurler.
*Flagpole and flagpole ornament not provided.