flagpole buying tips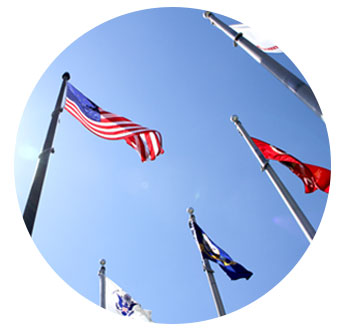 Flagpole Buying Made Easy!
Buying a flagpole doesn't have to be a complicated process. Carrot-Top Industries has over three decades of experience guiding customers through the flagpole buying process. Our Customer Care Professionals will help you select, purchase, and install the finest flagpoles for your location. We have a checklist below of things to consider when choosing the best flagpole for your needs, but we also realize it may help to have an expert walk you through the flagpole selection process. We recommend filling out a Flagpole Request Call Back Form to help us determine the best flagpole for you. After you complete the form, we will call you to discuss the best flagpole to meet your needs based on your form answers. Of course, if you need immediate help with your flagpole purchase, you can call us at 800-628-3524.
Flagpole Height

Generally, your flagpole should be at least 5'-10' taller than your surroundings to:
Avoid wind blockage

Provide a greater visual impact
Butt Diameter & Wall Thickness

Butt diameter and wall thickness are two critical aspects to your flagpole's structural integrity, stability, and ability to stand up to high winds:
Butt Diameter is diameter at the base or bottom of the pole

Wall thickness is the thickness of the shaft
The chart details maximum wind gusts in the different regions of the U.S. When you select your flagpole, please consider the conditions for your local environment and remember that your flagpole's wind ratings are for when there is no flag flying.This information is intended for use when purchasing an in-ground installed flagpole only.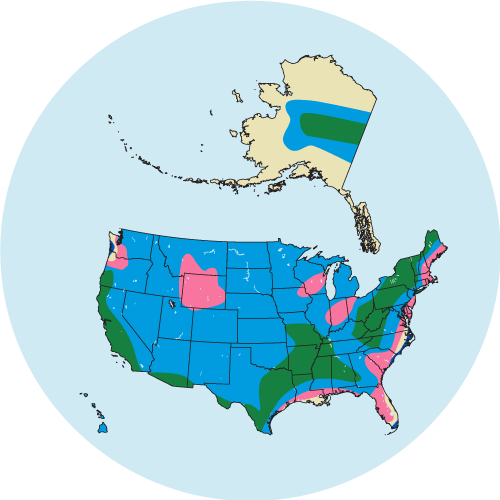 If you are interested in a vertical or outrigger wall-mounted pole, please call us at 800-628-3524 for assistance.
The flagpole's height, butt diameter, and wall thickness determine the maximum size flag it can handle. Each flagpole has a corresponding recommended flag size. In order to determine the right flag sizes when displaying multiple flags on the same flagpole, please contact Carrot-Top's Customer Care Professionals at 800-628-3524.

Be sure to account for the material of your flag as polyester flags are heavier than nylon flags. Carrot-Top recommends flying polyester flags on our Majestic™ Architectural, Majestic™ Extreme, and Fiberglass flagpoles. Consult our Flag Etiquette Page for guidelines on how to display the American flag.

FLAGPOLE MATERIAL
The material of a flagpole refers to the type of material used in its construction. Our flagpoles are available in three materials: aluminum, gel-coated fiberglass, and steel. Aluminum is the most commonly used metal for flagpoles because it is lighter than steel, will not rust like steel, and works well in both commercial and residential settings. See below for the benefits of the different flagpole materials:
Satin Aluminum: Natural, brushed aluminum finish attained by sanding the exterior with specially formulated abrasives provides the following benefits:
A bare metal finish; brightness will soften over time

Most popular finish for a flagpole

Rust-resistant

Low-maintenance, long-lasting
Anodized Aluminum: Coated via a chemical/electrical treatment which bonds to metal provides the following benefits:
Rust and corrosion resistant

Guards against fading due to normal climatic exposure

Added protection for coastal environments; protects against pitting or oxidation of the pole

Color options include Clear, Bronze, and Black

Slightly duller than the polished Satin finish
Gel Coated Fiberglass: Fiberglass flagpoles have exceptional strength and feature a high-quality gel coat finish that allows the flagpole to retain its pristine appearance for a lifetime and provides the following benefits:
Resistant to sun, moisture and corrosion

Maintenance-free

Lightweight

Safe; non-conductive material

Withstands high winds
Steel Flagpoles: Steel flagpoles are made from carbon steel pipe or tube. Please call our Customer Care Center for purchasing information on these flagpoles as they are not listed on our site. Carrot-Top reserves these flagpoles for orders where a 90' or taller flagpole is required.
FLAGPOLE FINISH
A flagpole's finish is the surface appearance or look of the flagpole. Finish options for aluminum flagpoles include Satin, Clear Anodized, Black Anodized, and Bronze Anodized. Anodized aluminum has been subjected to a chemical/electrical process that bonds the finish to the metal at the molecular level. This process is commonly used for products like outdoor furniture, handrails, metal roofing materials, and automotive components. Select the color of your finish to coordinate with the aesthetics of nearby buildings. It's best to choose an anodized finish for coastal locations.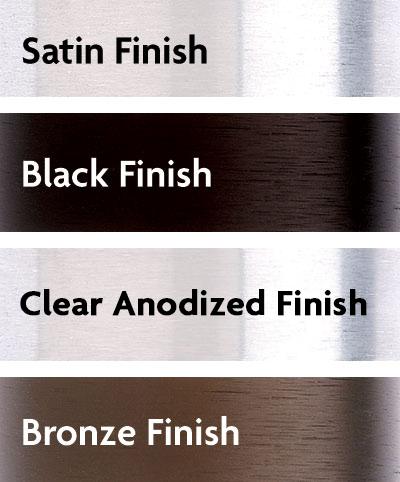 Halyard System refers to the location of the rope or wire that allows the flag to be raised and lowered. When choosing a design for your flagpole display, halyard placement should be an important consideration.
Internal Halyard Systems

An Internal Halyard System is when the flagpole rope or wire cable system, used to raise and lower the flag, is inside the flagpole and not readily accessible.
Revolutionary design

Tamper proof; prevents theft

Mechanism is secured behind a lockable panel at base of flagpole

Features a clean look

Top-of-the-line option
External Halyard Systems

An External Halyard System is when the flagpole rope or wire cable system, used to raise and lower the flag, runs down the outside of the flagpole and is fastened using a cleat. These flagpoles utilize flagpole trucks with an exposed pulley and rope halyard which is easily accessible.
Most economical poles for a wide range of weather conditions

Traditional and popular method for raising and lowering flag

Upgrades such as heavy-duty truck and double halyard systems available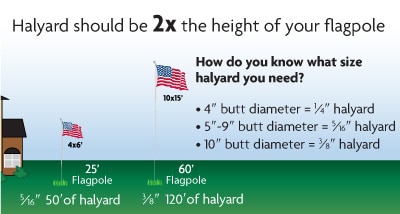 The type of installation you select may be influenced by your location, civic ordinances/restrictions, and the aesthetic look you desire for your display. Ground Set, Shoe Base, Hinge-Base, and Wall-Mount are all options for your flagpole installation.
Ground Set (also known as In-Ground) Installation: The strongest and most common form of flagpole installation. Things to note about Ground Set installation:
10% of the flagpole's height is embedded below ground in a concrete foundation

The listed height for our flagpoles reflect the above-ground height after installation
Shoe Base Installation: This installation involves a support structure and hardware, which normally includes a set of anchor bolts, embedded into an area of concrete. Things to note about Shoe Base installation:
A great option when above-ground installation is required

Flagpoles with a butt diameter of 3" or larger may be installed with Shoe Base
Hinge-Base or Tilting Flagpole Installation: This installation is a design that includes a hinge-base attachment installed into the ground, allowing them to be lowered and laid flat on the ground. Things to note about Hinge-Base or Tilting Flagpole installation:
Reduced cost of servicing the flagpole accessories

Strong and resistant to high winds

Most hinge-base flagpoles are counterbalanced so they can easily be lowered or raised by one person
Wall-Mount Flagpole Installation: This installation is a design where an external halyard flagpole is mounted vertically or at an angle to the side of a building. Things to note about Wall-Mount installation:
Includes a bracket and hardware for mounting; brackets are available in several designs to match the aesthetics of a building facade

A great option for urban areas or locations where space is at a premium
After reviewing our flagpole tips above, you may still need more details or assistance with your flagpole purchase. We recommend filling out a Flagpole Request Call Back Form to help us better determine the best flagpole for you.

If you need immediate help with your flagpole purchase, you can call us at 800-628-3524.

Have you found your American Flag? Display it proudly on one of our flagpoles.
Click below to view our flagpole selection as well as our variety of flagpole accessories.