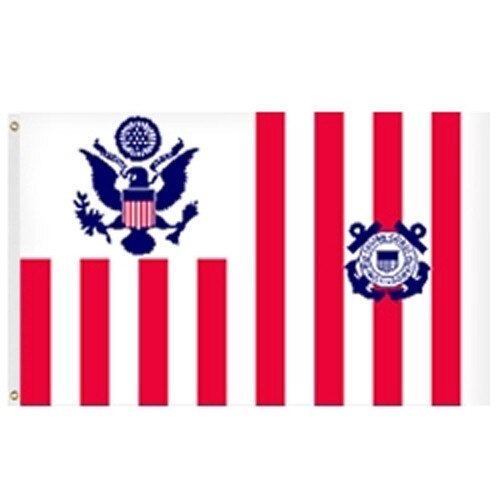 Coast Guard Ensign Flag - Government Specified
Details
Coast Guard ensign flags consist of 16 alternating red and white horizontal stripes. The canton of the ensign in the upper left quadrant is the American coat of arms in dark blue on a white background. The Coast Guard ensign also has a Coast Guard seal in blue and white. The flag was first established as a sign of authority for the Coast Guard which was at the time known as the Revenue Cutters, their main duty being to curb smuggling and pirating efforts.
Our Coast Guard ensign flags are made of industrial strength nylon and finished with a header and grommets for outdoor use. For more information about the Coast Guard ensign flag read the description tab below.
The Coast Guard Ensign is filled with symbolic meaning and history. The 16 stripes in the body of the flag represent the 16 States that made up the Union when the ensign was officially adopted in 1799. The original flag only contained the stripes and the American Coat of Arms. Later on, when the flag gained popularity, it flown on board official Coast Guard vessels as well as some custom houses. The official Coast Guard seal was added to the ensign to distinguish the official Revenue Cutter vessels from others.
The colors that make up the official Coast Guard ensign are also deeply symbolic. The color red on the ensign stands for youth and the sacrifice of blood soldiers make for liberty. The color blue stands for justice and the Coast Guard's covenant against oppression. The white symbolizes the desire for light and purity.
Our Coast Guard Ensign flags are built according to the Government specifications and can be used on official Coast Guard vessels. The flags are available in a 15"x24", 30"x48" and 60"x96" sizes. The flags feature lock-stitched seams and industrial strength nylon for a longer lifetime. For more information about our Coast Guard Ensigns, please fill out our contact us form and one of our Customer Care Representatives will be in touch with you!