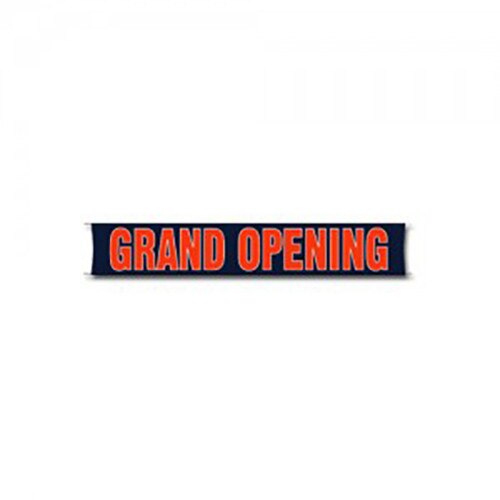 Extra-Large Grand Opening Banner
Details
Our extra-large grand opening banners measure three feet in height and 20 feet across. These banners are made of weatherized canvas material. These banners are ideal for large displays to attract attention from people passing by.
The extra-large banners can be used in outdoor conditions and came withstand mild or favorable conditions for about three months. For more information about the large grand opening banners see the description tab below.
LIMITED QUANTITY AVAILABLE
The extra-large grand opening banners are ideal for use across a street or across the face of your building or store front. These banners are designed with double stitching to resist fraying and degradation. The banners also have a thirty foot long rope sewn on to the top and bottom of it. Five feet of the rope extends from each corner of the banner to allow for attachment. These banners can be easily tied to two lampposts or any two anchor points for a full-fledged upright display.
The extra-large grand opening banners are not recommended for use in wet weather as the colors printed on the banner may start to run. In dry conditions the banner can be safely displayed outdoors for up to three months in mild conditions.
See our full range of advertising products perfect for attracting the attention of people passing by. These items include message flags, blade flags, and feather or flutter flags. We also have a large collection of street banners, a great way to dress up any location. Our street banners, banners, flags and many other products can be fully customized. See all our custom products to find a product that best suits your needs. Browse through our expansive collection of American flags as well. For more about our products, please fill out our contact us form and one of our Customer Care Representatives will be in touch with you!