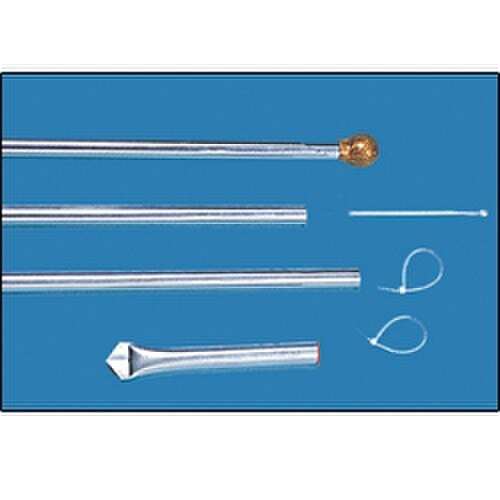 Economy In-Ground Mounting Flagpole Kit - 9'
Details
The economy in-ground mounting flagpole kit features a jointed flagpole with an aluminum flagpole stake, also known as a ground sleeve, an ornamental ball top and cable ties to attach the flag with. The economical mounting flagpole is extremely easy to install and assemble.
For installation simply drive the ground sleeve into the ground and slide the flagpole in. The jointed pole also makes transporting and storing the flagpole a breeze. The economy in-ground mounting flagpole kit is recommended for use with flags measuring 3x5'. Read the description tab below for more details.
The economy in-ground flag pole one of the most reasonable and inexpensive flagpoles. The aluminum segmented pole comes in 2 pieces and is rust free. It can be used in outdoor displays for advertising or other short term purposes. When assembled the flagpole measure 9' in height but weighs less than 2lbs.
The economical in-ground kit is great for a portable outdoor display, it can be assembled and disassembled in a breeze and weighs almost nothing. The ground sleeve included is also made of durable aluminum with rust resistant qualities. The flagpole also features a 1" diameter ornamental gold finished vinyl ball top.
The flagpole should only be used to fly flags measuring 3x5' or smaller and is not recommended for use in high wind areas.