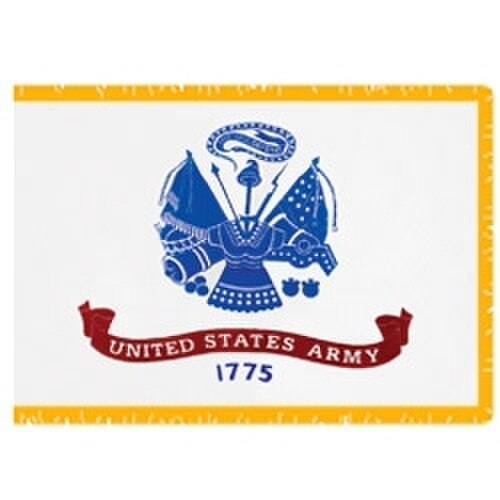 Details
Our indoor army flags are constructed using durable nylon and are available with a gold fringe. Nylon flags are regarded as being top quality indoor flags and are designed for long term use. The Army insignia on the flag is digitally printed and features bright vibrant colors.
The indoor Army flags are designed to be used with our indoor flagpoles and make for a convenient flag display. All of our Army flags have the official specified colors and are available in several sizes. For more information about our indoor Army flags scroll down to the description tab below.
The indoor Army flags are available in 3'x5' and a 4'x6' size. Our indoor army flags are available with or without a featured rayon gold fringe running along three sides of the flag. The side of the flag that isn't fringed is fitted with a hem and pole sleeve. The poles sleeve is lined and can be used with an indoor flagpole with a diameter of 1.25". To attach the flag simply slide the flagpole into the pole sleeve. 3'x5' flags are ideal for 8' poles and flagpole sets, the 4'x6' flags are good for use with poles measuring 9' or more. Both flags are compatible with our Majestic™ telescoping aluminum poles. The indoor Army flags are also compatible with our parade poles. The fringed Army flags are often used for color guard events and ceremonies.
For further details, please fill out our contact us form and one of our Customer Care Representatives will be in touch with you.