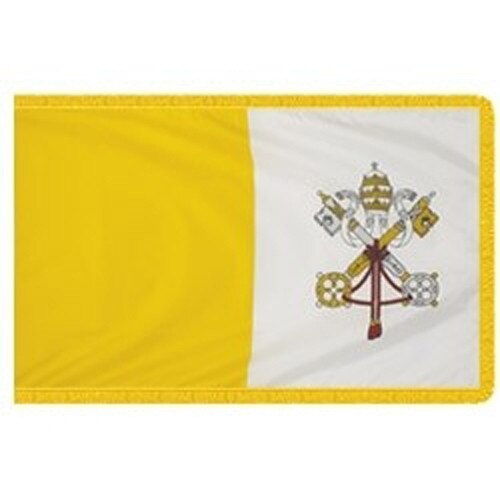 Details
Indoor Catholic Flags are beautiful symbols for The Faithful to express their faith and show support for the Catholic Church. The flag of Vatican City was adopted on June 7, 1929, the same year the new independent state was created.
Our Indoor Catholic flags feature strong, durable nylon, bold bright colors and a high quality, digitally printed Vatican City Coat of Arms. These flags are available in two sizes. Indoor flags create amazing interior displays in your home, church, school, business or locations. For more information about our Indoor Catholic Papal flags see the description tab below.
Indoor Catholic Flags feature finely woven nylon and beautiful, bright colors. These flags are finished with a lined pole sleeve and plush, Spanish yellow gold fringe. Our Indoor flags create a classic and dynamic look. The 3'x5' Catholic flag is intended for display with and 8' indoor/ parade flagpole. The 4'x6' Catholic flag is best paired with a 9' indoor/parade flagpole. Both flags perfectly match Carrot-Top's Majestic Telescopic Flagpole. The Majestic® Flagpole adjusts from 5-9' feet is an exclusive Carrot-Top item.

Furthermore, feel free to explore our full list of catholic flags.
Carrot-Top's offers products that allow you to express or show your support, pride and love in many areas. Our flags include American flags, international country flags, sports flags, novelty flags, and more. Browse our custom products section for items and products that might advertise or promote your business or organization.