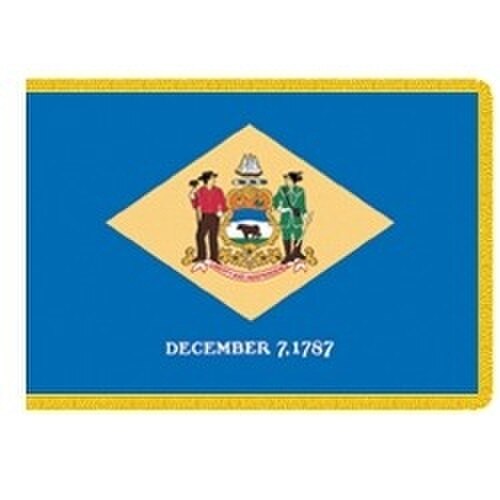 Details
Indoor Delaware flags are designed to showcase the beautiful state flag of Delaware in your home, office, building or church. These flags are made with our exclusive Beacon® nylon and feature bold, bright beautiful colors and exquisite reinforced stitching. Indoor Delaware flags are available in a variety of sizes. For more information about our Indoor Delaware flag see the description tab below.
Indoor Delaware flags are finished with a lined pole sleeve along the left side and plush, traditional gold fringe around the remaining sides. There are two flag size options which include the 3'x 5' Delaware flag for use with an 8' indoor/parade flag pole or our exclusive Majestic Telescopic. Carrot Top also features a 4'x 6' Delaware flag for use with our 9' indoor/parade flagpole or our Majestic Telescopic flagpole. Select your flag size based on the height of your flagpole.
Carrot Top provides a wide range of patriotic products and flags. Our American flags are available in several sizes and two fabrics. The Patriarch® polyester American flag is made with woven polyester that has the texture of cotton. These flags are best suited for areas with extreme climates and harsh winds. The Beacon® nylon American flag is fashioned with strong, durable nylon that is still lightweight enough to fly effortlessly in the air. Carrot Top also produces US City flags. Show support for your favorite college and university with our NCAA college sports flag or choose an NFL team to root for with our NFL team flags. For further details, please fill out our contact us form and one of our Customer Care Representatives will be in touch with you.