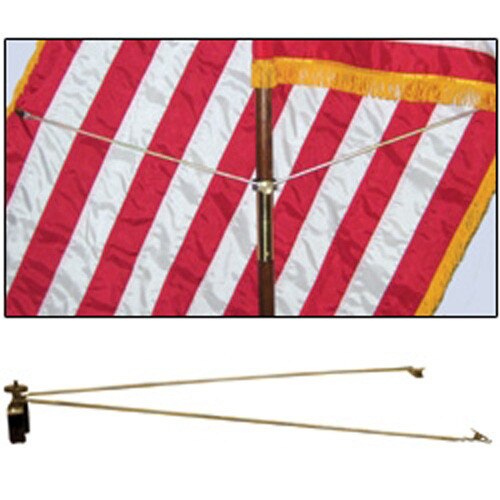 Details
The indoor flag spreader is designed to fully display your flag beautifully and securely on an indoor flag presentation. Often time indoor flag displays seem limp and bundled up and the flag is not in full view. The adjustable flag spreader stops the flag from bunching and keeps it spread and robust allowing for a full view of the flag.
Our flag spreader is made of solid steel making it durable. It is guaranteed a long life time when used in indoor displays. For a more information and to watch a short video on how to install the flag spreader scroll down to the bottom of this page.
Indoor flag spreaders are a vital piece of hardware when considering an indoor flag display. Our flag spreader is easy to install and is built to last! It can be used with flag poles with a diameter between 1" and 1¼". To attach it to the flagpole simply place the clamp at a desired height and finger tighten the screw for a secure hold.
The flag spreader is compatible with flags sized 3x5' or 4x6', the adjustable arms are 18" in length and feature easy-use clips at each end to hold each end of the flag. When completely outstretched the flag spreader measure 38" in width. It weighs just 0.5lbs and places no extra strain on a flagpole.