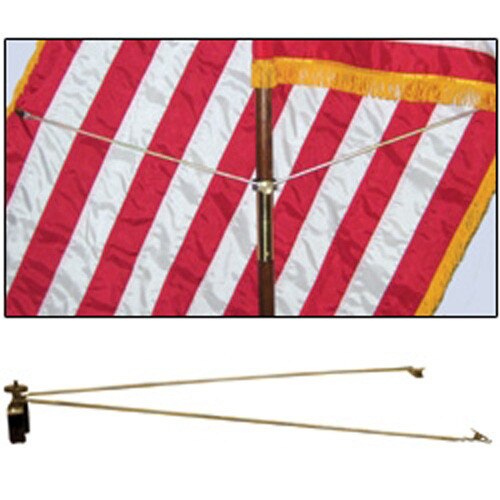 Details
Full Product Details for Our Indoor Flag Spreader:
Show off the full beauty of your indoor flag with our indoor flag spreader. Flag spreaders are essential hardware for anyone looking to add more appeal to their indoor flag display. Many beautiful designs are hidden in indoor climates since there is no wind to billow the flag into full view. This hardware helps fully display your state deal, emblem, or other elements.

Can be used straight out of the box. No assembly is required.

Compatible with flagpoles with a diameter between 1" and 1 1/4"

Includes adjustable arms that measure 38" in width when completely outstretched

Places no additional strain on the flagpole

Comes with easy-use flag clips to hold each end of the flag

Compatible with 3'x5' and 4'x6' indoor flags
Why Buy Our Indoor Flag Spreader?
Our flag spreaders keep your indoor flag from looking tired, limp, and bunched up. We especially recommend using them if you plan to display a state or military flag indoors. Many state flags have their state seal in the center of their design. Without the right hardware, this design element stays hidden from view.

Our adjustable flag spreader for indoor flags holds and displays your flags without drilling into your flagpole. It is made of solid steel and is guaranteed a long time when used in indoor displays.

Keep in mind when you spread your flag it will take up additional space in the room. We do not recommend using flag spreaders for indoor flags displayed in tight spaces.
Installation Instructions for Indoor Flag Spreaders
To install your indoor flag spreader, use the clips to attach the hardware to your indoor flagpole just above the pole center joint and tighten it. Next, you want to attach the spreader's arms to the desired area of your flag. Adjust until satisfied.

Check out our YouTube video for a visual demonstration of how to install your adjustable flag spreader.
What Flags Can I Use with My Flag Spreader?
We recommend using flag spreader with any indoor 3'x5' or 4'x6' flags. Indoor flags differ from outdoor flags in that they are finished with a lined pole sleeve instead of brass grommets. Instead of attaching to the flagpole using halyard, indoor flags slide over indoor flagpoles. Many of our indoor flags are available for purchase with and without a gold fringed for added elegance.
You may purchase any of our indoor U.S. flags alone or as part of an indoor U.S. flag set. Our indoor American flag sets come in several heights to match the size of your room, or you may purchase a telescoping pole for an adjustable flag display.
Looking to Enhance Your Indoor Flag Display?
Enhance your indoor flag display with other flag accessories, including flag stands, indoor flagpole kits, ornaments, tassels, and finials.
Carrot-Top Industries: Your One-Stop Shop for Flags and Flag Accessories
Carrot-Top takes pride in offering customers the best quality flags and custom products. In addition to our indoor flag sets and flag spreaders for indoor flags, Carrot-Top carries a vast selection of outdoor flag products, including outdoor American flags, garden flags, civil service flags, stick flags, and more. Our Beacon® Nylon American Flags are a best seller and a customer favorite. We also carry officially-licensed outdoor and indoor military flags and POW/MIA flags. Branches include the Army, Navy, Marine Corps, Coast Guard, and Air Force. You can even design your own flag when you order our custom flags.

As one of the most trusted names of our flags, our customers include veterans' groups, fire stations, schools, churches, and other non-profit organizations. Add your desired purchase to your shopping cart and checkout to start your order. For additional help, don't hesitate to fill out our contact us form to reach a Flag Pro.