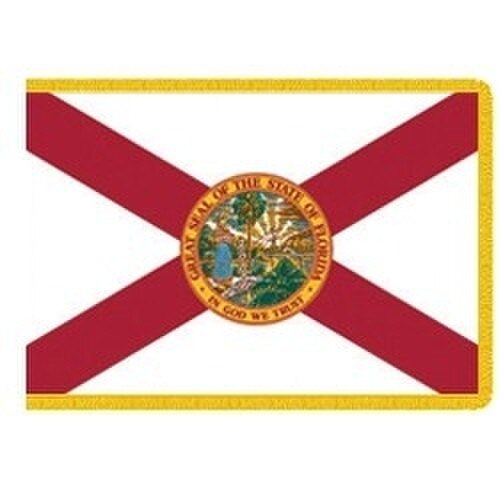 Details
Our Indoor Florida flags allow you to display your love for the state of Florida with pride. Indoor Florida flags are available in two different fabrics and several sizes. Carrot Top designs both nylon and polyester Florida flags. These beautiful flags are made with the highest quality materials and feature bright, bold fade-resistant colors and exquisite reinforced stitching. For more information about the Indoor Florida flags see the description tab below.
Indoor Florida flags are available in Patriarch® polyester and Beacon® nylon. Both brands are Carrot Top exclusive fabrics. The Beacon® nylon indoor Florida flag is one of the best all-weather flags available. This flag features extra tough, durable nylon that is light enough to fly effortlessly in the slightest breeze. Beacon® nylon flags are suited best for regions with milder climates and less severe winds. Size options available include 12" x18", 2'x3', 3'x5', 4'x6', 5'x8', 6'x10' and 8'x12. The Patriarch® polyester flag is the best all-around flag available. This flag features tough spun 2-ply polyester that has the texture and feel of cotton. Patriarch® polyester flags are built for extreme climate areas with more severe winds. These flags are available in sizes 3'x5', 4'x6' and 5'x 8. Both flags create a beautiful display with our exclusive Majestic Telescopic Flagpole.
Carrot Top is your one-stop for patriotic products, flags, and custom items. Our American flags are produced in a variety of sizes and shapes. The Patriarch® polyester American flag and our Beacon® nylon American flag are two of the finest flags available. Consider pairing your indoor Florida flag with one of our US City flags like Jacksonville or St. Petersburg. Root for the Jacksonville Jaguars or the Tampa Bay Buccaneers with one of our NFL team flags. For further details, please fill out our contact us form and one of our Customer Care Representatives will be in touch with you.