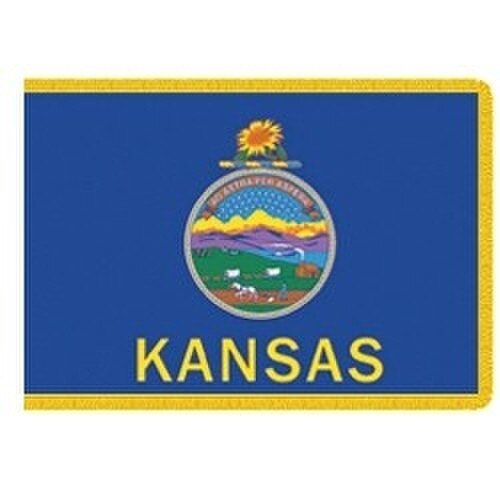 Details
Indoor Kansas flags are made with our exclusive Beacon® nylon. This super strong, durable nylon is still lightweight your flag will wave effortlessly in the wind. These versatile flags feature beautiful, bold fade resistant colors and reinforced stitching to prevent fraying. For more information about out Indoor Kansas flags see the description tab below.
Our Indoor Kansas flags create distinguished and beautiful displays of the Kansas State flag. All indoor flags feature a lined pole sleeve on the left and plush traditional gold fringe around three sides. Indoor Kansas flags are available in two sizes: 3' x5' and 4' x 6'. Carrot Top's exclusive flagpole, the Majestic Telescopic Pole, is an adjustable and pairs perfectly with either flag in most spaces. The 3'x 5' Kansas flag works well with an 8' indoor/parade flag pole while the 4'x 6' Kansas flag would match best with a 9' indoor/parade pole.
Carrot Top offers a broad range of products including American flags in a variety of sizes and fabrics. The Patriarch® polyester American flag is one of the best all-around flags available. This flag is built to withstand harsh climates and more severe winds. The Beacon ® nylon American flag is made with extra strong, beautifully woven nylon. Beacon® flags are designed for milder climates with milder winds. Carrot Top also supplies flags of US Cities like the Wichita City flag and the others. Support the Kansas City Chiefs and other NFL teams with an NFL Team flag. For further details, please fill out our contact us form and one of our Customer Care Representatives will be in touch with you.