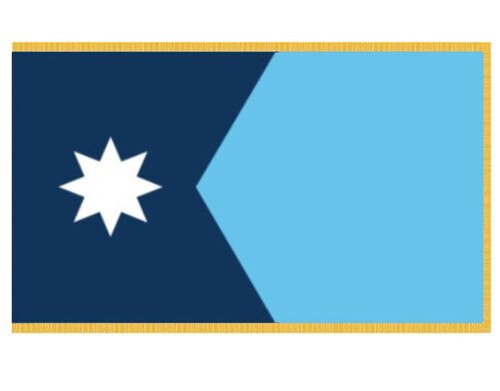 Details
Indoor Minnesota flag create beautiful displays in your home, church, office, building, school or location. Indoor flags are finished with a line pole sleeve and feature luxurious gold fringe. These flags are available in two sizes. For more information about our Indoor Minnesota flag see the description tab below.
Our Indoor Minnesota flags are the most versatile flags obtainable. These flags showcase intricate lock stitching and bold, fade resistant colors. Indoor Minnesota flag are available in two sizes: 3' x '5' and 4'x6'. The 3' x 5' Minnesota flag displays best with our exclusive 5-9' Majestic Telescopic pole or an 8' indoor/ parade flagpole. The 4'x 6' Minnesota flag pairs best our Majestic Telescopic pole or a 9' indoor/parade flagpole.
Carrot Top goes out of its way to cater to the needs of every customer for every occasion or display. Our patriotic items include mini American flags and mini Minnesota flags, Minnesota City flags, and American flags of all sizes and fabrics. Our Patriarch® Polyester American flag and our Beacon® Nylon American flag are two of the finest flags available. Patriarch® flags are constructed with woven polyester and have the texture and feel of cotton. Beacon® flags are designed with extra tough, lightweight durable nylon that flies effortlessly in the slightest breeze. For further details, please fill out our contact us form and one of our Customer Care Representatives will be in touch with you.