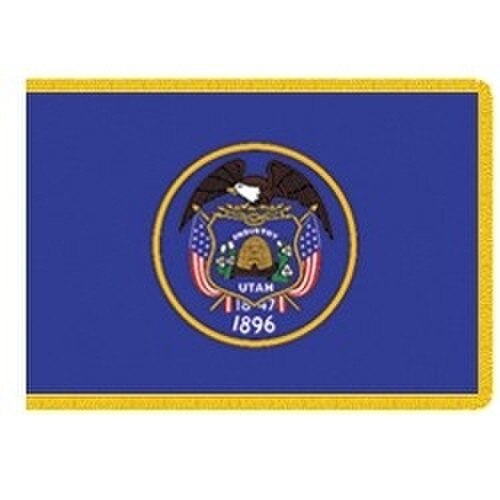 Details
Indoor Utah flags create classic displays of the Utah flag for your home, office, school, church, building or location. These phenomenal flags feature bright bold colors, exquisite double lock stitching and plush gold fringe. Indoor flags are available in two sizes. For more information about our Indoor Utah flags see the description tab below.
Indoor Utah flags showcase the Utah state shield on a rich navy blue background. These superiorly crafted flags are fashioned in our exclusive Beacon® Nylon. Beacon® flags are tailored with beautifully woven, lightweight nylon and are produced in sizes 3'x 5' and 4' x 6'. Choose the best flag for your flagpole's height. The 3' x 5' Utah flag pairs best with our Majestic® Telescopic Pole or an 8' indoor/parade flagpole. The 4' x 6' Utah flag also works great with our Majestic Poles or a 9' indoor/parade flagpole.
Carrot Top strives to provide the highest quality products and superior customer service. Our custom and flag items must meet the highest standards. Our team of customer service representatives works to ensure that our service exceeds expectations. Our American flags are some of the finest flags available and include the Patriarch® Polyester American flag and the Beacon® Nylon American flag. Don't forget to show your support for the Utah Utes with our NCAA College Sports flags. Carrot Top also supplies NFL Team flags and flags of US Cities. Our graphic artists are expertly skilled in recreating your images, logos and photos on custom signs, banners and decals. Our custom products are perfect for towns, schools, churches, businesses or homes. For further details, please fill out our contact us form and one of our Customer Care Representatives will be in touch with you.