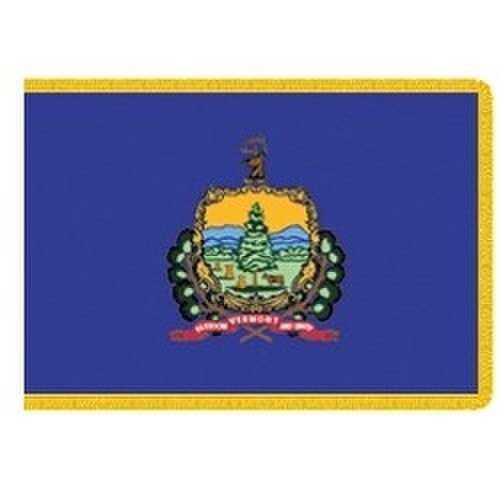 Details
Indoor Vermont flags are fashioned in one of Carrot Top's exclusive fabrics and are available in two sizes. These flags create dynamic displays for your home, office, school church or building. Carrot Top's Indoor Vermont flags showcase rich bold colors, exquisite stitching and superior artistry. For more information about our Indoor Vermont flags see the description tab below.
Our Indoor Vermont flag is available in our exclusive Beacon® Nylon. Select your flag's size based on the height of your flagpole. The Beacon® Indoor Vermont flag is finished with a lined pole sleeve along the left side and plush, traditional fringe around the remaining sides. The 3' x 5' Vermont flag is best displayed with an 8' indoor/parade flagpole such our 8' Jointed Oak finished pole. The 4' x 6' Vermont flag is most suited for display with a 9' indoor/ parade flagpole or the 9' Jointed Oak finished Flagpole. Both flags perfectly match Carrot Top's exclusive Majestic® Telescopic Pole. Majestic® Poles are easy to assemble and transport and adjust with a few simple twists to one of three sections. Carrot Top's Indoor Vermont flags are made in America.
Carrot Top proudly supplies patriotic, flag and custom products for onetime events, ongoing presentations or permanent displays. Carrot Top also supplies flags of US Cities, NFL team flag and NCAA College Sports flags. Our graphic artists are skilled in recrafting your images and logos into stylized artwork for custom banners, signs, mats, decals and tents. Carrot Top offers it all to you. For further details, please fill out our contact us form and one of our Customer Care Representatives will be in touch with you.