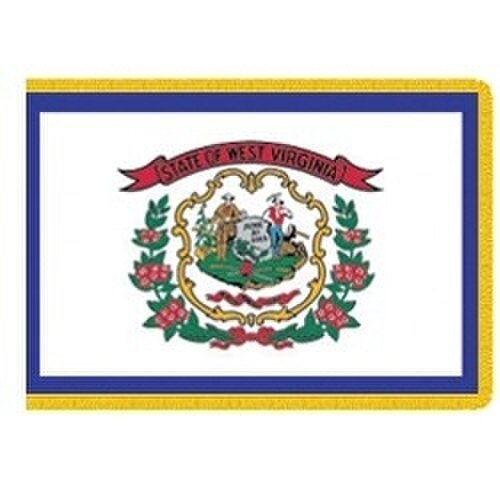 Indoor West Virginia Flags
Details
Indoor West Virginia flags are fashioned crafted in one of Carrot Top's exclusive fabrics and are available in two sizes. These flags create splendid displays in almost any location. Select the flag size that best matches your flagpole's height and display dimensions. Indoor flags showcase impeccable stitching and beautiful artistry. Indoor West Virginia flags are made in the USA! For more information about our Indoor West Virginia flags see the description tab below.
Indoor West Virginia flags are fashioned in our exclusive Beacon® Nylon and sizes 3'x 5' and 4'x 6. These flags feature a lined pole sleeve along the left side and plush, traditional gold fringe around the three remaining sides. The 3'x 5' West Virginia flag is best displayed with an 8' indoor or parade flagpole. Carrot Top's 8' Jointed Oak finish Pole and 5-9' Majestic® Telescopic Pole create classically beautiful displays with the 3'x 5' flag. The 4'x6' West Virginia flag requires a 9' indoor or parade flagpole and creates a beautiful display with our 9' Jointed Oak finished pole or the Majestic Telescopic Pole.
Carrot Top has a wide assortment of custom, flag and patriotic items for onetime events, ongoing presentations and permanent displays. Our American flags include our exclusives flags, the Beacon® Nylon American flag and the Patriarch® Polyester American flag. Carrot Top also fashions custom items like streets banners. Our graphic artists are quite skilled in replicating your artwork onto decals, signs and tents. For further details, please fill out our contact us form and one of our Customer Care Representatives will be in touch with you.