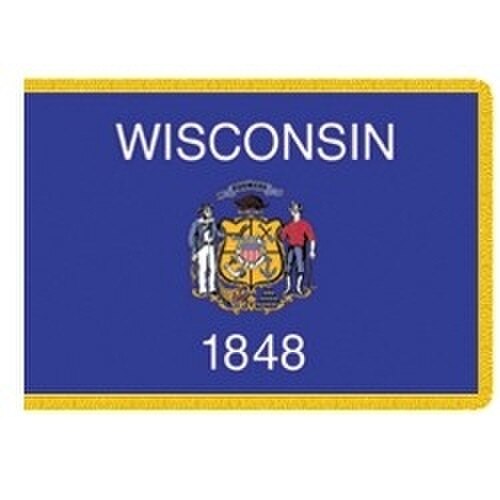 Details
Indoor Wisconsin flags are fashioned in an exclusive Carrot Top fabric and are available in two sizes. These flags make classic indoor displays at any locations. Celebrate Wisconsin in style with these beautiful flags that showcase rich bold colors and reinforced lock stitching. For more information about our Indoor Wisconsin flags see the description tab below.
Indoor Wisconsin flags are tailored in our exclusive Beacon® Nylon. Beacon® Wisconsin flags are crafted with super strong, woven nylon and are finished with a lined pole sleeve along the left side and plush, gold fringe around the remaining sides. These flags are available in sizes 3'x 5' and 4'x6'. Select the flag that best matches your flagpole's height. The 3'x5' Wisconsin flag pairs best with an 8' indoor or parade flagpole while the 4'x6' Wisconsin flag is best displayed with a 9' indoor or parade flag pole. Carrot Top's Majestic® Telescopic Pole and our Jointed Oak finished Pole are excellent flagpole options.
Carrot Top is committed to providing the highest quality products and best customer service. Our customer service representatives are available to guide you with your selection and assist you with information and options. Our American flags are some of the finest flags available and include the Patriarch® Polyester American flag and the Beacon® Nylon American flag. Carrot Top's custom flags include NFL team flags. Show big support for Green Bay's Packers and other NFL teams. NCAA College sports flags of college teams like the Wisconsin Badgers are also available. Carrot Top also provides custom street banners, signs and decals for both professional and personal use. For more information about Indoor Wisconsin flags or any Carrot Top item see the description tab below.