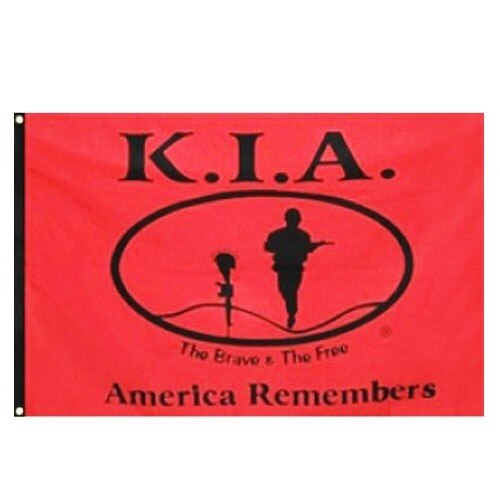 Killed In Action Flag (Kia Flag)
Details
The Killed in Action flag, or KIA flag, is used to celebrate the life of a fallen soldier. These flags are for the soldiers that have sacrificed their lives to keep their fellow countrymen safe.
Our Killed in Action flags are available in three fabric options. For more information about the KIA flag's design and construction, see the description below.
Flags are available in 3'x5' Only
The Killed in Action flag, commonly known as the KIA flag, is said to have come about after a Veteran's experience at the Veterans Memorial in DC. The Veterans Memorial is often where people go to mourn the loss of their loved ones or friends while serving their country in the military. On one such occasion, a Veteran had seen a POW-MIA flag being placed on the monument. This seemed wrong as POW and MIA soldiers should not be thought of as having passed. In order to differentiate between soldiers who had fallen and soldiers who were missing, the KIA flag was born.
The KIA flag features a red background with writing and graphics in black. The flag features an oval in centered on the background with the silhouette of a soldier in full gear and the same of a gun placed in the ground with the barrel facing down and a soldier's helmet placed on top. The words 'Killed in Action" are placed in an arch over the helmet. Just below the oval are the words "The Brave & The Free" printed in black. Below that are the words "America Remembers," and right at the top of the flags are the letters "K.I.A". Our KIA flags are available in three fabric options measuring 3'x5'. Both flags are fitted with a black canvas header and grommets for use with our outdoor flagpoles. For further details, please fill out our contact us form, and one of our Flag Pros will be in touch with you.