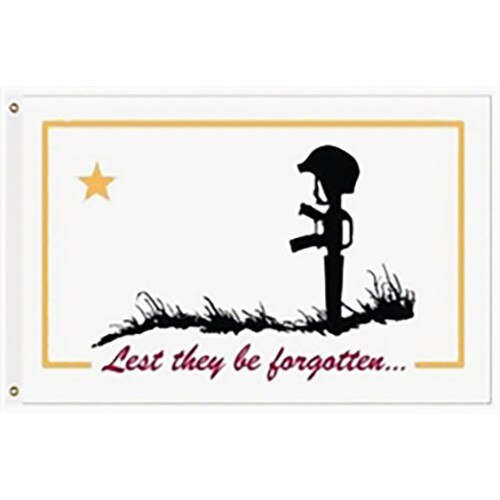 Lest They Be Forgotten Flag
Details
The Lest They Be Forgotten flag was created as a way for the general public to show their gratitude and honor for soldiers in the U.S Armed Forces. This flag is packed with symbolic significance and is an ideal way to pledge support.
The Lest They Be Forgotten flag is designed and created for outdoor use and comes fitted with a header and grommets for attaching to an outdoor flagpole. For more information, see the description tab below.
The Lest They Be Forgotten flag features a white background with a soldier's memorial and a black field in the foreground. A gold rectangular border and a gold star in the top left corner surround the memorial and field. Along the bottom side of the flag are the words "Lest They Be Forgotten," printed in red. The white background is symbolic of a soldier's purity, and the black field is for their dedication and devotion. The red color is for the blood shed by the soldiers. The gold star represents their families, and the gold border the value of each soldier's life and how valuable it is.
The flag features a white canvas header and brass grommets for a secure attachment. The flags are made of tough and water-resistant nylon and measure 3' x 5'.
See all of our commemorative and retired military products to honor and remember the valiant soldiers in the U.S. Armed Forces. Buy a high-quality American flag to showcase your national pride. Also, see our official military flags and Support Our Troops flags. For more information about our products, please fill out our contact us form, and one of our Flag Pros will be in touch with you!