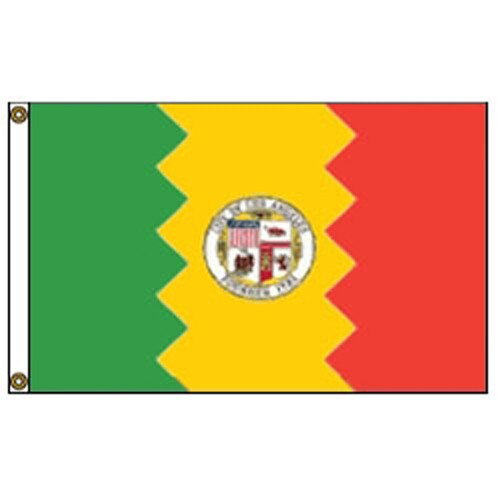 Details
The Los Angeles city flag identifies the City of Angels with vibrant bold colors and beautiful images significant to the city. The Los Angeles flag was designed by Roy E. Silent and E.S. Jones in 1931 for the city's 150th anniversary. The Los Angeles flag features three jagged sections of green, yellow and red. The green represents Olive trees; the yellow symbolizes orange groves and the red represents vineyards. The center of the Los Angeles flag contains the official Seal of the City of Los Angeles which bears images that include the Coat of Arms of Mexico, symbols from Spain's Coat of arms, the date the city was founded and the flag of California. Surrounding the shield are the three major crops of California: grapes, olives and oranges. For more information Los Angeles City flags see the description tab below.
Los Angeles is the second largest city in the U.S. and the largest in the state of California. Los Angeles was claimed by Spain in 1542 and was officially founded in 1781. Today, the City of Los Angeles is a cultural mecca with strengths in business, media, entertainment, fashion, science, and technology.
Los Angeles City flags are available in five sizes ranging from 2'x3' to 6'x10'. Our Los Angeles City Flags are the best all-around flags available. Carrot-Top's Los Angeles flags dry quickly and wave beautifully in the slightest breeze Carrot Top also allows you support your favorite college team. Whether it's UCLA, USC or whichever college team you support, Carrot Top can help you show your school spirit with our NCAA college sports flag. California State flags and American flags are also available.