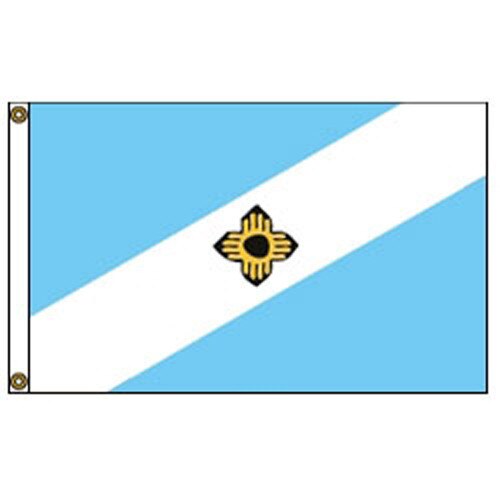 Details
The Madison city flag beautifully represents the City Of Madison with distinguished style and rich symbolic meaning. The Madison flag design consists of a light blue background with a diagonal stripe extending from top right to bottom left. The white stripe represents the city of Madison while the surrounding blue fields signify the lakes that border the city's downtown. The black and gold cross at the center of the flag symbolizes the four lakes which border the city limits as well as the shape of the Wisconsin State Capital Building. Overlaid on the cross is an Indian sun symbol. The flag was designed by Rick and Dennis Stone, members of the Madison Scouts Drum and Bugle Corps. For more information about Madison City flags see the description tab below.
Madison is the capital and second largest city in the state of Wisconsin. Madison is named for former President James Madison and consistently has been voted one of the best places to live in the United States. Madison is the home of its beloved University of Wisconsin Badgers, a driving force in academics, research and athletics.
Our Madison City Flags are the best all-around flags available. Madison flags are constructed with durable yet lightweight nylon, bright, vivid colors and intricate stitching. Carrot-Top's Madison flags dry quickly and wave effortlessly in the faintest breeze. Madison City flags are available in five sizes ranging from 2'x3' to 6'x10'. Show your support for the Wisconsin Badgers with one of our NCAA college sports team flag. Build your own set with the Wisconsin State flag and an American flag. Carrot Top also features Wisconsin state flag lapel pins, mini Wisconsin state flags, and mini American flags.