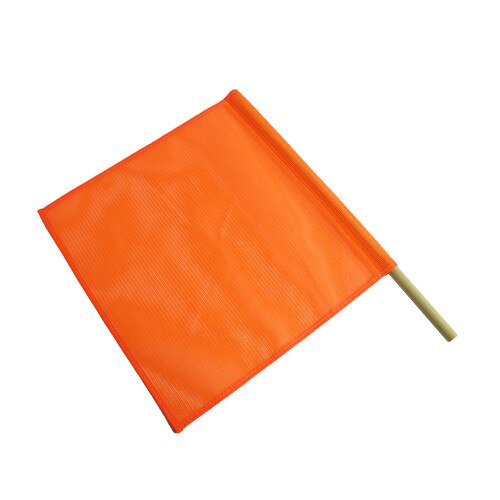 Mesh Safety Flag - Medium Weight
Details
Our Mesh Safety Flags are ideal when needing a cost-effective yet high-quality product for traffic direction or crowd control. Constructed with a mesh material, this medium weight safety flag is sure to attract attention and serve its purpose with its fluorescent make-up. To order our medium weight Mesh Safety Flags, please enter your desired quantity below and click the "Add to Cart" button. For more information, see the description tab below.
The Medium Weight Mesh Safety Flags measure 18"x18" and make for a great option when looking to alert and notify motorists of the direction they should and should not be trying to access. Our Mesh Safety flags are ideal for sporting events, concerts, carnivals and fairs, and hand-held display of our safety flags is a breeze with the attached sturdy, wooden dowel measuring 24" x ¾". Fabricated from a fluorescent orange woven nylon mesh material, the medium weight safety flag offers the same top quality construction as the Heavy Duty Mesh Safety flag while being less in cost and flying easier in the breeze.
In addition to safety flags, also offered are event cones for added definition to your traffic pattern. Not only are the solid orange cones available. We also have traffic cones reading "EVENT PARKING" and "EVENT" with a directional arrow imprinted as well. We also offer outdoor roadside signs which accommodate your specific message. If the roadside signs are too large for your area, several options of sidewalk signs are also available. The sidewalk signs function in the same manner as the roadside signs while taking up less space. Always available are our outdoor United States flags. Available in our Beacon® Nylon and Patriarch® Polyester material, we are guaranteed to have the material and size to appropriately match your weather conditions and flagpole size.