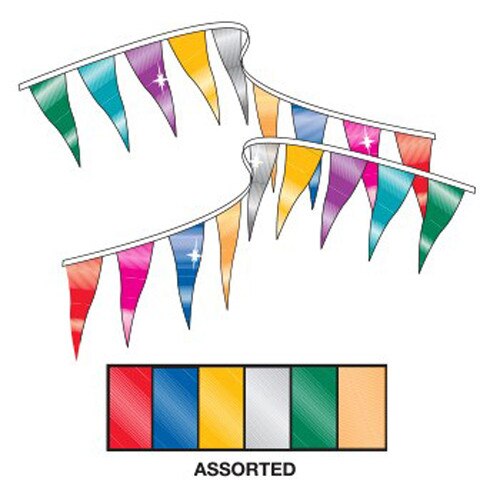 Slim Metallic Pennant Strings
Details
The slim metallic pennant strings are reflective attention grabbing decorations ideal for both indoor and outdoor use. These pennant flags are slimmer than the usual pennants which measure approximately 12" at its base, these pennants measure just 6" at the base.
The strings measure 60' overall of which 50' are covered with pennants. For more about these pennant strings see the description tab below. To order this product enter the desired quantity and click on the "Add to cart button".
Our slim metallic pennant strings are perfect for sale events, markets, special occasions and a whole host of other events. These colorful pennants are designed to attract attention from people in the area in the hope of convincing them to participate in your event or walk in to your store or business location. The pennants feature shiny mylar material, ideal for sunny locations or location with a lot of light as they reflect even more light than regular pennants and are sure to be more that much more striking.
The metallic pennants are slimmer than the usual pennants measuring 6" at the base and 18" in length. The 50' string features 40 pennants in alternating colors. The colors of the pennants are red, purple blue, gold, silver, turquoise and green. Multiple color options are available, call us for more details. The pennants are double stitched for extra strength and are designed to resist sagging. These pennant strings are known to last for several months in long term displays.
For similar products browse through the entire collection of pennant strings. Similar products include our metallic streamers, multi-color wiggler pennants, multi colored pennant flag strings and several other products. Our other attention grabbing products include our advertising flags and our full collection of custom products. Carrot-Top offer custom flags, custom banners, custom floor mats and several other fully personalized items. See our range of American flags including large flags measuring 60' and more. For more details please fill out our contact us form and one of our Customer Care Representatives will reach out to you!