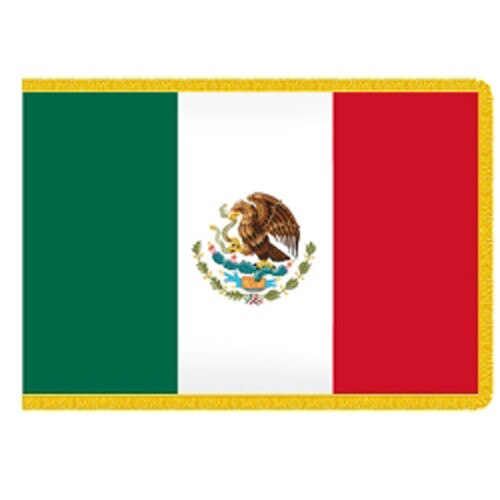 Details
Indoor Mexico flags create beautiful and distinguished displays of the Mexico flag in your home, office, school, business or parades. Our Indoor flags are crafted with the highest standards. These flags showcase vibrant red, white and green colors and exquisite, double stitched seams that prevent fraying. Indoor Mexico flags feature a strong canvas header and a lined pole sleeve. For more information about our Indoor Mexico flags see the description tab below.
Indoor Mexico flags are 3'x5' and have plush gold fringe around three sides. Our Indoor flags are crafted with super strong, woven nylon that dries quickly and flies effortlessly in the slightest breeze. These flags are best displayed with an 8' parade or Indoor flagpole. Our Majestic® Telescopic Pole and our 8' Jointed Oak Finished Pole are two great options. Majestic® Poles are adjustable, easy to transport and assemble, and have the option of three finishes: Wood-Grained, Gold and Chrome Aluminum. Jointed Oak Poles are two piece hardwood, Oak finished flagpoles with brass joints. Both the Majestic® and the Jointed Oak Finished Pole create dynamic displays of the 3'x5' Indoor Mexico flag.
Carrot Top has a broad range of products which includes custom, patriotic and flag products. Our American flags are the some of the finest flags available and include the Patriarch® Polyester American flag and the Beacon® Nylon American flag. Consider giving Mexico patches and Mexico flag lapel pins to family, Co-workers and friends. These tokens are affordably priced to share and quantity discounts are available. For more information about our Indoor Mexico flags or any Carrot Top item please fill out our contact us form today!