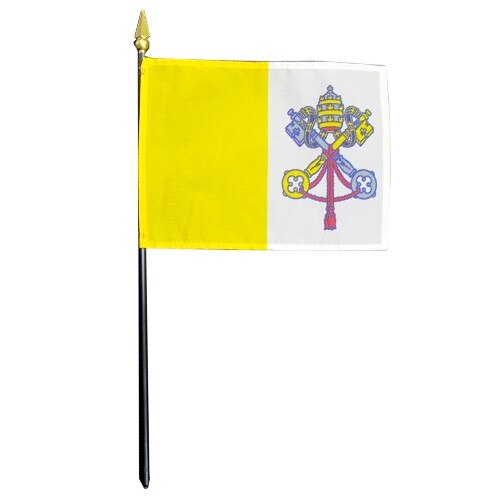 Details
HOW TO ORDER CORRECT QUANTITY FOR 4" X 6": QTY 1 = 12 FLAGS. OTHER SIZES SOLD INDIVIDUALLY.
Mini Catholic flags are fun, hand held tokens of faith that proudly show off your belief and your support of the Catholic Church.
Available in two sizes 4" x 6" and 8" x 12"
Digitally printed with a yellow and white striped background
Single Reverse image and 4 side sewn with a single row of stitching
Flags are stapled/mounted onto a 10" dowel with gold spear top
Flags are proudly made in the U.S.A.
Miniature Catholic Flags are big expressions of faith and huge statements of fun to share with neighbors, co-workers, family and friends. These small flags showcase the coat-of-arms of Vatican City. The Left side of the flag is yellow while the right side is white. Miniature flags are perfect for church events, Papal visits, holidays, meetings and more. These 4" x 6" and 8" x 12" banners of faith are small yet make a big impact on the life of Catholics as a visible symbol or representation of the church. Carrot-Top's flags are very affordably priced to share with others. Buy in bulk and save.
Carrot-Top offers a wide selection of patriotic, special event and custom-made products. Our flags are some of the finest obtainable anywhere and include our Beacon® and Patriarch® American flags. Shop our impressive collections of World flags, American flags and other flags which are noted for their superior craftsmanship and longevity. Our custom items include a vast array of products which may be customized with your business, organization or personal logo, image or photo.
For further details, please fill out our contact us form and one of our Customer Care Representatives will be in touch with you.