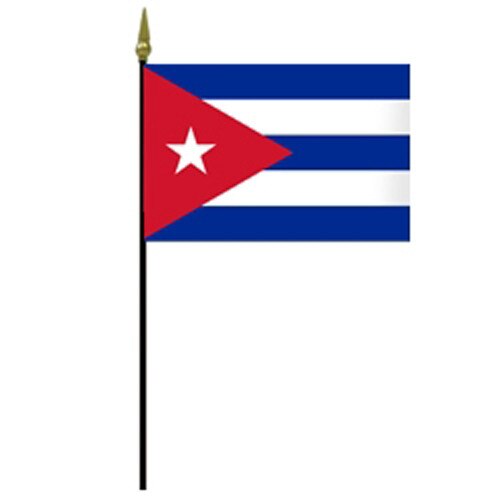 Details
HOW TO ORDER CORRECT QUANTITY: QTY 1 = 12 FLAGS
Our Mini Cuban flags are perfect for any event to celebrate Cuba. These handheld flags are inexpensive tokens of Cuban spirit. The mini Cuban flags are made of 70 denier nylon fabric and comes attached to a plastic staff for easy display and handling.
The blue and white stripes coupled with the red triangle and white five pointed star of the Cuban flag appears in vibrant and rich colors on our Mini Cuban flag. For more information about these flags see the description tab below.
These mini Cuban flags measure 4 inches in height and 6 inches in width. The flag 70 denier nylon flags come attached to a black plastic flag staff for handheld use. The plastic staff measures ten inches in height with a diameter of 3/16". The mini Cuban flag is topped off with a gold spear head on top of the staff for a professional look.
Pair our mini Cuban flags with one of our mini flag bases to create a great desk flag and upright mini flag display. We also provide indoor and outdoor Cuban flags for use in long term flag displays. Our collection of world flags include flag from every country in the world. Carrot-Top's range of American flags carries flags of all sizes and made of many different fabrics to suit conditions. We offer everything you need for a complete flag display including flag poles, flag pole accessories and even installation services. For more information about our products and services please fill out our contact us form and a representative will be in contact with you!