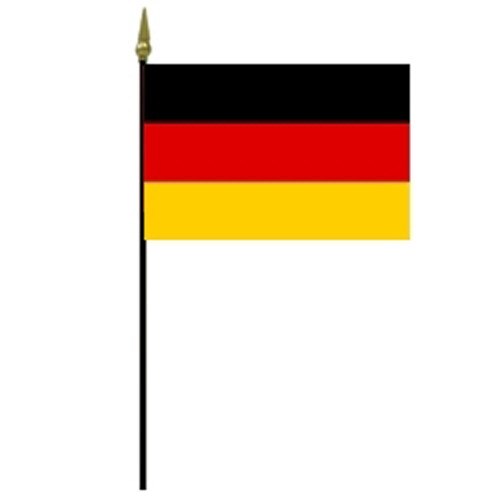 Details
HOW TO ORDER CORRECT QUANTITY FOR 4" X 6": QTY 1 = 12 FLAGS. OTHER SIZES SOLD INDIVIDUALLY.
Mini Germany flags are a fun and cool tokens of heritage with huge appeal. These miniature flags are available in two sizes. Mini flags are constructed with 70 denier nylon materials. Our mini Germany flags are perfect giveaways and keepsakes as they are affordably priced to share with others. For more information about our Mini Germany flags see description tab below.
Mini Germany flags are 70 denier nylon and are mounted onto a black plastic staff or dowel with a plastic gold spearhead. The 4" x6" Mini flag has a staff size of 10"x 3/16". The 8" x 12" Flag has a staff size 18" x ¼". A 1 hole wood table base is also available as it creates a sleek and cool mini display that is perfect for cars, classrooms, desks, tables and shelves.
Carrot Top has a long tradition of supplying superior products such as our Patriarch® Polyester American flag and our Beacon® Nylon American flag. Carrot Top fashions American flags in several sizes and fabrics. Carrot Top's team of graphic artists is quite skilled in customizing street banners, signs, and decals with your artwork and images. Consider pairing your Mini flag with a Germany flag lapel pin. For further details, please fill out our contact us form and one of our Customer Care Representatives will be in touch with you.