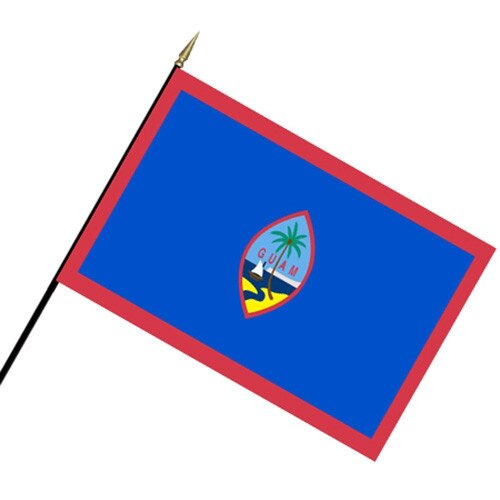 Details
HOW TO ORDER CORRECT QUANTITY FOR 4" X 6": QTY 1 = 12 FLAGS. OTHER SIZES SOLD INDIVIDUALLY.
Mini Guam flags are made with superior quality materials and feature vivid, bold colors. These beautiful flags showcase symbols of Guam's history and pride and allow you to express your love for one of the United States' Pacific Ocean territories. Mini flags make great keepsakes and tokens of heritage to share with friends, family, neighbors, co-workers and others. For more information about our Mini Guam flags see the description tab below.
Mini Guam flags are designed with 70 denier nylon. The flags are available in two sizes: 4"x6" and 8"x12". All miniature flags are fashioned with a black plastic staff and a plastic spearhead. The 4"x 6" mini Guam flag is perfect for parades, patriotic festivities, sports events, cultural ceremonies and more. This flag has a staff size of 10" x 3/16". The 8"x12" mini flag is perfect for parades and political events as well but may also create a beautiful display for tables, shelves and in windows using our 1 hole wood table base.
Carrot Top is proud to offer patriotic products and many other items to help you honor your heritage and express your patriotism. Our American flags are made with the best materials and are some of the finest flags available. Our Patriarch® polyester American is the best all- around flag obtainable. Made with woven polyester, this flag is designed for areas with harsh winds and extreme weather conditions. The Beacon® nylon American flag is made with extra tough, durable nylon that is so lightweight it waves beautifully in the faintest breeze. Carrot Top also features mini American flags, NCAA College sports flag of Colleges and University, and NFL team flags. For further details, please fill out our contact us form and one of our Customer Care Representatives will be in touch with you.