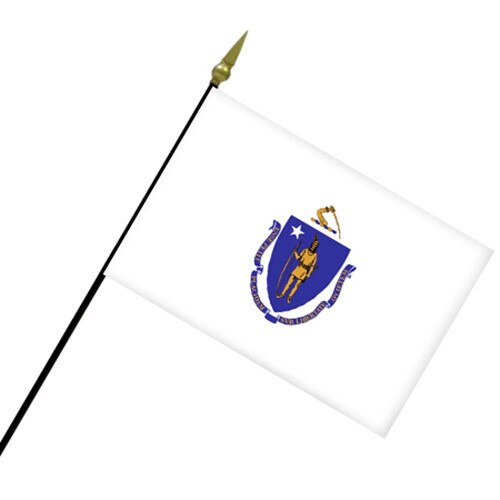 Mini Massachusetts State Flags
Details
HOW TO ORDER CORRECT QUANTITY FOR 4" X 6": QTY 1 = 12 FLAGS. OTHER SIZES SOLD INDIVIDUALLY.
Mini Massachusetts flags are a fun and wonderful way to show your love and pride for the magnificent state of Massachusetts. These flags are available in two sizes and are mounted on black plastic staffs. These flags feature the state shield of a Massachusett Indian on a white background. For more information about Mini Massachusetts flags see the description tab below.
Our Mini Massachusetts flag are crafted with a blend of polyester and rayon materials. These flags are the perfect item to share with others and are great gifts for patriotic holidays like Memorial Day and Presidents Day. They are also great tokens of heritage for parades, political events, state celebrations and sporting events. Our Mini flags are available in three sizes, 4x6", 8x12", and 12x18". The 4" x 6" & 8" x 12" flags are 70 denier nylon material mounted on black staffs. The 4x6" mini flag has a staff that measures 10" x 3/16" while the 8x12" mini flag has a staff size of 18" x ¼". The 12" x 18" polyester flags are mounted on a 30" x 5/16" wooden staff with a gold spear top. Mini displays of the Massachusetts flag are perfect for tables, desks, windows and classrooms. These flags are priced to affordably share with others and quantity discounts are available.
Carrot Top has the highest standards of quality items and merchandise. Our American flags are made with the most superior materials. Our Beacon® Nylon American flag is tailored with strong and durable yet lightweight nylon that dries quickly and flies effortlessly in the wind. Beacon® flags are best suited for milder climates and less severe winds. Patriarch® Polyester American flag are designed with super strong, woven polyester that has the texture and feel of cotton. Patriarch® flags are built for coastal regions and areas with harsh winds. Boston City flag and the flags of other US Cities are also available. Carrot Top also carries flags of NFL teams so that you may support the New England Patriots or your favorite NFL team. For further details, please fill out our contact us form and one of our Customer Care Representatives will be in touch with you.